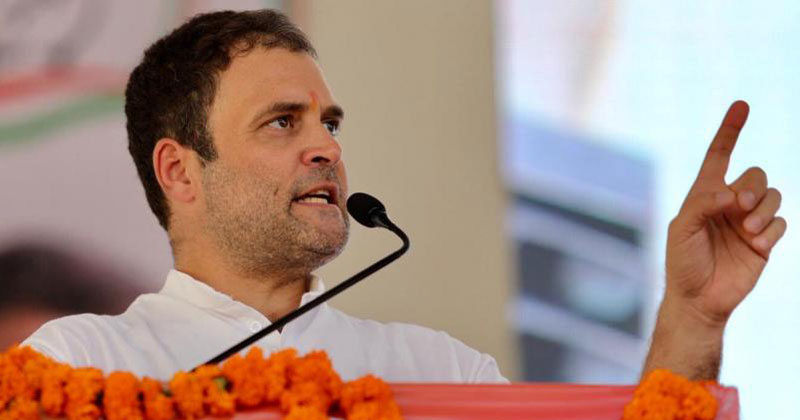 Ahead of the Rajasthan Assembly elections, Congress President Rahul Gandhi had slammed Prime Minister Narendra Modi, calling him a thief.
Prime Minister Narendra Modi had said that he wishes to be the 'chowkidaar' (watchman) of the country rather than the Prime Minister, Gandhi recalled, mocking Modi's past statements on tackling corporation.
But when Gandhi questioned Modi on the Rafale deal and Vijay Mallya issue, the Prime Minister remained silent in the Parliament.
"Galli galli mein shor hai, Hindustan ka chowkidar chor hai (There is noise in the street alley, the watchman of India is a thief)," he said in Hindi at a rally in tribal-dominated Sagwara. He said this is what the people in Rajasthan and elsewhere in the country felt.
He added that the people are disappointed with BJP in the Center & in Rajasthan and that the Congress will in the upcoming state Assembly elections.
"Neither the prime minister and the chief minister nor their money can stop the change of government in Rajasthan," he said.
The Assembly elections will be held in the state later this year, shortly ahead of the Lok Sabha elections in 2019.
Launching a full-on attack at the BJP in the state, Gandhi stated that while PM Modi held 'Maan Ki Baat' radio talks, the Congress wishes to hear what the people have to say.
Talking about 'Make In India' the promises made to the youth of the nation fails as phones, shoes & clothes carry 'Made in China' tag. Gandhi claimed only 450 youths get employment in the country each day while China created jobs for 50,000 people every 24 hours.
He alleged that while 15 or 20 big industrialists' bad loan of Rs 2,30,000 crores had been written off, the debt-ridden farmers have not been helped.
While the BJP had decided on the CM candidate in the state- present CM Vasundhara Raje will be nominated again, the Congress is yet to name a candidate.
"I can guarantee you that this time not a single parachute candidate will be able to get the ticket. If any such candidate comes, I will cut the rope," he said. He also asked senior Congress leader Avinash Pandey to find women faces to represent the party.
He also added that the Center's GST nicknamed as 'Gabbar Singh Tax' by the Congress, is a multiple-layer tax system that has burdened the common man.
"We had proposed a one country, one tax system but the prime minister levied a multiple-layer tax system. The Congress government will change it to a single-layer tax system if voted to power," he said.