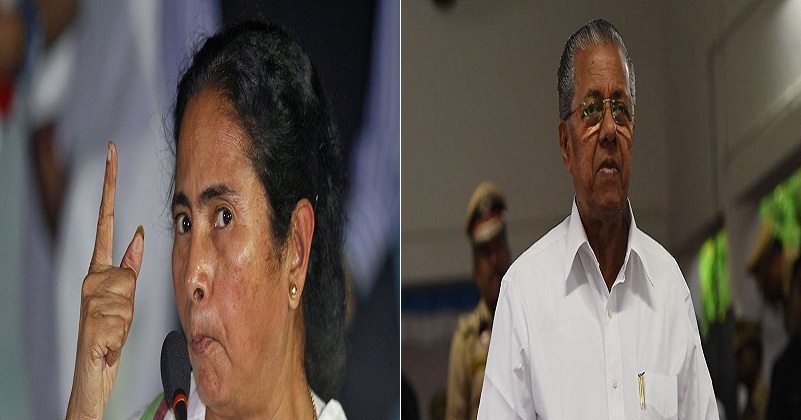 West Bengal CM Mamata Banerjee will invite Kerala CM Pinarayi Vijayan along with leaders of other political parties for the mega anti-BJP rally in Kolkata on January 19.
The Trinamool Congress supremo said among those invited for the rally, Andhra Pradesh Chief Minister N. Chandrababu Naidu, Telengana Chief Minister K. Chandrashekar Rao and former Jammu and Kashmir CM Omar Abdullah have already confirmed their presence.
"The CPI(M) is still trying to conspire against me. But still I feel that that all Leftists are not bad. So I have decided to invite the Kerala Chief Minister to the rally on January 19. At the same time, I will invite leaders from other Leftist parties like CPI, RSP and All India Forward Block to participate in the rally. No one is untouchable for us," Banerjee said at a press conference after presiding over a meeting of party leaders at the Trinamool Congress headquarters.
Mamata said invitations to the leaders of almost all major anti-BJP parties had already been sent. "Some of them like (TDP president) Chandrababu Naidu, (NC leader) Omar Abdullah and (AAP president) Arvind Kejriwal have also confirmed that they will be present," she said.
CPI(M) central committee member and leader of Left parties in the West Bengal assembly, Sujan Chakraborty, however, said, "These comments are baseless. On one hand, her party cadres are regularly killing our workers and burning down their houses. And now she want us to join her. This is double speak."