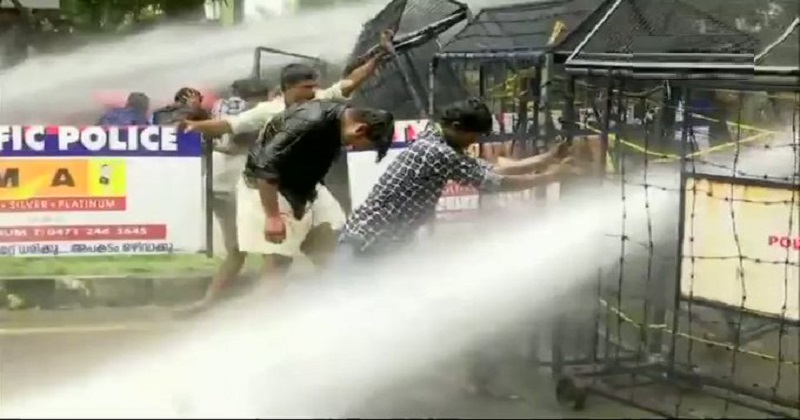 As the Sabarimala issue hots up, a march by 'Yuvamorcha' activists on Thursday to the house of Kerala Devaswom Minister Kadakampally Surendran here turned violent, leading to police using water cannons and tear gas shells to disperse the crowd.
The trouble started when the activists tried to break barricades put up by police a few meters away from the minister's house.
Reacting to the incident, the ruling CPI(M) alleged that the ongoing stir over the Sabarimala issue by the opposition BJP and Congress along with other outfits was to destabilise the LDF-led state government.
Addressing a press conference here after an LDF meeting, Front Convener A Vijayaraghavan said the nature of the stir, which included blocking the minister's convoy, "insulting" the chief minister and attacking Travancore Devaswom Board offices, indicated that the effort was to dislodge the LDF government.
Alleging that the stir was to create trouble at a time when the LDF government was being praised for its relief work after the massive floods in the state last month, Vijayaraghavan said the opposition parties were using the Supreme Court verdict (on Sabarimala) as a tool to attack the government.
With a view to counter the "false propaganda" unleashed by the Opposition over the issue, LDF would convene public meetings in all 14 districts this month to explain the stand of the government and the LDF, he said.
Chief Minister Pinarayi Vijayan will address meetings here on October 16, at Pathanamthitta on October 23 and at Kollam on October 24, the LDF convenor said.