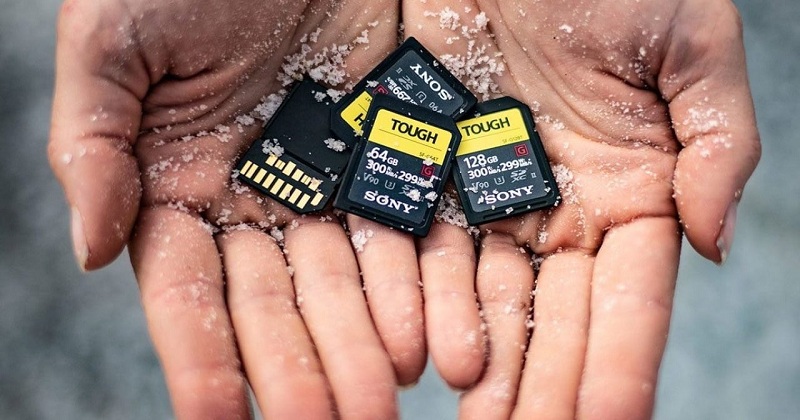 Sony India launched the new UHS-II SD card range that is touted to be the world's toughest and fastest. The new SF-G series is claimed to offer read speeds up to 300MBps and write speeds up to 299MBps.
Sony has also offered a bend proof build that can be bent to 180N and resist a drop of up to five metres. All this makes it the new SD cards 18 times stronger than the SD standard that withstands 10N force, Sony claims. Further, the new SF-G Series SD cards have an IP68 rating that makes them water- and dust-resistant. While the 64GB Sony SF-G64T in the new series comes with a price tag of Rs. 13,290, the 128GB SF-G128T is priced at Rs. 24,590. Both new models are already available for purchase through all Sony Center, Alpha Flagship stores, and major electronics stores in India.
The new SF-G series Tough has a monolithic structure that involves a one-piece design along with no empty space in the card. Sony also claims that it has provided high-grade hardness materials, unlike conventional SD cards that are made of thin, three-part ensemble. There is also the world's first rib-less design with no write protection switch.
The company says that these two inputs are additionally aimed to ensure that there are no fragile components to make the new SD cards prone to drops, bends, water, and dust. Similarly, the build is stated to resist issues of broken plastic casing, broken data protection lock, and broken connector ribs. The SDs are also X-ray proof, magnet proof, anti-static, temperature proof, and include UV Guard.
Alongside the robust design, the Sony SF-G series range has read speeds up to 300MBps and write speeds up to 299MBps. Also, there is support for V90 that is the so far the highest standard of video speed class. There is a bright yellow banding design that makes the card easier to spot in dark shooting conditions.