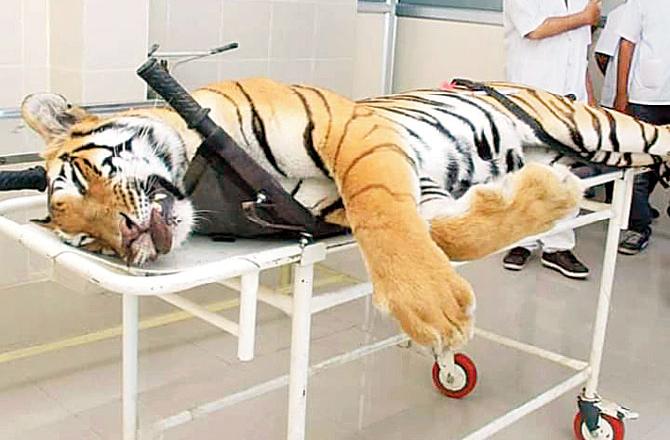 Union Minister Maneka Gandhi is upset on the killing of alleged man eater, tigress Avni. An animal-rights activist and environmentalist herself, she has expressed her grief at the 'murder' of the Royal Bengal Tigress and has condemned the Maharashtra government for the "brutal murder" of 6-year-old from Yavatmal district near Nagpur, who was shot dead on November 2nd.
Avni was the mother of two nine-month-old cubs and  was believed by the villagers that she was a 'man-eater' after the deaths of at least 13 people over the period of 18 months.
Maneka Gandhi, called this an act of crime and blamed hunter Shafat Ali Khan, calling him anti-national, for killing 3 tigers, 10 leopards, a few elephants and 300 wild boars in Chandrapur district. She included Chief Minister Devendra Fadnavis into the loop of tweets and promised to take this matter up legally, criminally and politically.
I am deeply saddened by the way tigress Avni has been brutally murdered in #Yavatmal, #Maharashtra. #Justice4TigressAvni https://t.co/hX6wuf62Ec

— Maneka Sanjay Gandhi (@Manekagandhibjp) November 4, 2018
In last September, the Supreme Court had permitted Avni to be shot at sight, provoking a burst of petitions seeking pardon for the feline with two young cubs. For its search operations itself, the government had spent almost Rs 60-70 lakhs in the last two months. Forest department had hired elephants, thermal drones, perfumes, sniffer dogs, paragliders and more than a hundred trap cameras. More than 200 people including private & forest department shooters were involved in the search .
PETA India also condemned the killing. They said the making her cubs orphaned and vulnerable is an apparent violation of the Wildlife Protection Act and the guidelines of National Tiger Conservation Authority.