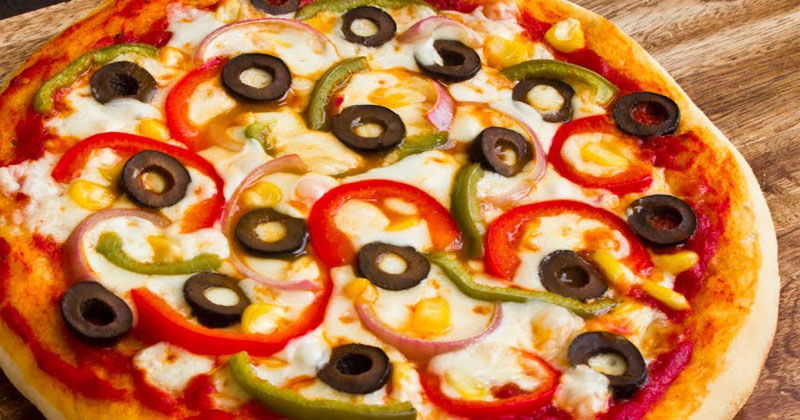 Ingredients
2 1/2 Cup Wheat flour
1/2 Cup All purpose flour
1/2 Teaspoon Baking Powder
2 Tablespoon Butter
1 Tablespoon Sugar
2 Tablespoon Cooking Oil
1/4 Cup Curd
Salt to taste
Water as needed
1/4 Cup Thinly sliced Capsicum(lengthwise)
1/4 Cup Thinly sliced Onion(lengthwise)
1/2 Teaspoon Chilli Flakes
4 Tablespoon Tomato Sauce
1/2 Cup Mozarella Cheese cubed or grated
How to Make Easy Pizza
Take large bowl, add wheat flour, all purpose flour. baking powder, baking soda, sugar, butter, curd and salt and mix well.
Then pour water and knead to form a dough. Rub a little oil on the dough and leave to rest for 30 minutes.
Now pour oil in a pan, and once hot, add onions and capsicum and saute for 2 minutes and keep aside. Mix in chilli flakes and cover well.
Now take a small portion of the dough and roll out to get a flat base.
Take a tawa that is going to be used to cook the pizza and use that size as a guideline to roll out the dough.
The dough base should not be too thinly rolled out.
Heat the tawa, add a little oil and place the base onto it.
Once the bottom side is cooked, flip over and then you can assemble the toppings.
Spread tomato sauce, then the vegetables, and then cover and let it cook for 5 minutes on low heat.
Finally, sprinkle a little cheese and cover so that the cheese melts a bit.
Take off from heat, slice into wedges and serve hot.