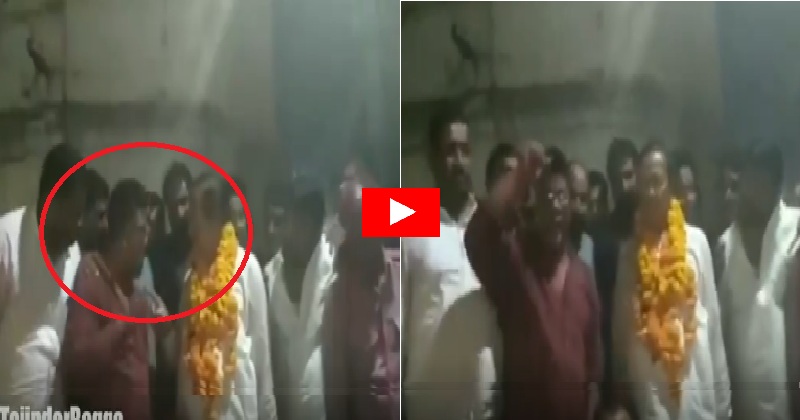 A BJP leader tweeted a video where a Congress leader from Rajasthan is seen halting 'Bharat Mata Ki Jai' slogans to raise chants of 'Sonia Gandhi' and 'Rahul Gandhi', along with the names of other Congress bigwigs.
In the video, supporters of Congress politician B D Kalla in Bikaner chanted slogans of 'Sonia Gandhi zindabad' and 'Rahul Gandhi zindabad' after being stopped midway from chanting 'Bharat Mata Ki Jai' by Kalla on Sunday night.
Amit Sha attacked the Congress at public meetings in Madhya Pradesh, claiming the incident showed that the party had no other concern except for promoting one family.
Cong Leader & Ex Education Minister Raj Dr BD Kalla Stopped his party leader to Raise "Bharat Mata Ki Jai" Slogan in Muslims Area.Said we will loose Muslim votes if u Raise "Bharat Mata Ki Jai".he told him to say Sonia Gandhi,Rahul Gandhi & Ahmed Patel Jindabad instead of BMKJ pic.twitter.com/Je1NtCAhMY

— Tajinder Pal Singh Bagga (@TajinderBagga) November 18, 2018
Mr Shah claimed viral video showed that a Congress candidate in the Rajasthan Assembly polls "stopped" a party worker from chanting "Bharat mata ki jai" and instead asked him to raise slogans for Sonia Gandhi."The Congress should be ashamed. What is your priority? What is in your heart? You have no right to eat grains of this earth if a slogan hailing mother India does not inspire you to do something for the country. This shows the ugly mindset of the Congress," Mr Shah said.
The fight for Rajasthan has intensified after both the Bharatiya Janata Party and the Congress traded barbs ever since the campaigning began, with the Congress accusing the BJP of poor governance and the BJP claiming that Congress does not have a chance of winning at the upcoming Assembly elections.