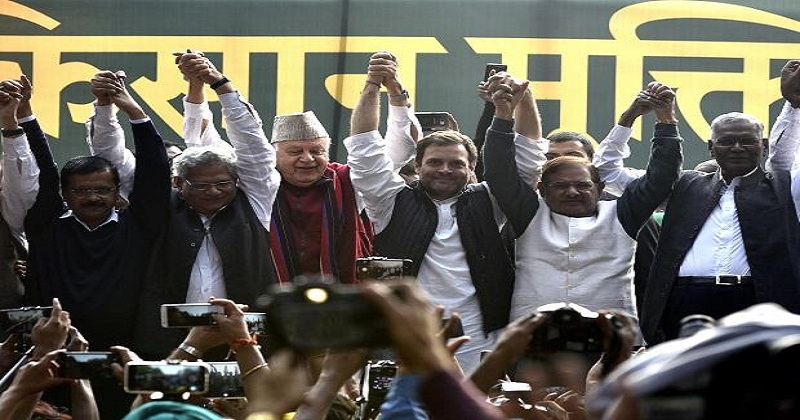 About fifty thousand farmers from across the country marched from Ramlila Maidan to Parliament Street in New Delhi to press for several demands, including loan waiver and higher crop prices.
In the massive rally, organised by the All India Kisan Sangharsh Coordination Committee (AIKSCC), the protesters shouted slogans against Prime Minister Narendra Modi and the Centre, alleging that it had failed to address their plight.
A plethora of Opposition leaders — including Congress president Rahul Gandhi, Aam Aadmi Party chief Arvind Kejriwal, CPM general-secretary Sitaram Yechury — came together in a show of strength at Parliament Street as the BJP-led government emerged as the common enemy.
Farmers from different parts of the country, including Andhra Pradesh, Gujarat, Madhya Pradesh, Maharashtra, Tamil Nadu, West Bengal and Uttar Pradesh converged at the Ramlila ground on Thursday.
Launching a scathing attack on Prime Minister Narendra Modi over the agrarian crisis, Congress president Rahul Gandhi on Friday said that the former should not only waive the debts or loans of industrialists but also of farmers. Addressing a farmers' protest at Delhi's Jantar Mantar, Gandhi said, "If the loans of industrialists can be waived, then the debt of farmers must be waived as well. I assure the farmers of India, we are with you, don't feel afraid. Your strength has made this country."
Traffic was disrupted in many parts of the city on Thursday as the farmers marched to the Ramlila ground in the heart of the city on four different routes, starting from Anand Vihar, Nizamuddin and Bijwasan railway stations and Sabzi Mandi. Traffic was affected on the Jawaharlal Nehru Marg, on the stretch near Guru Nanak Eye hospital, Maharaja Ranjit Singh flyover, Barakhamba Chowk and Janpath on Friday morning. Commuters were advised to avoid these routes.