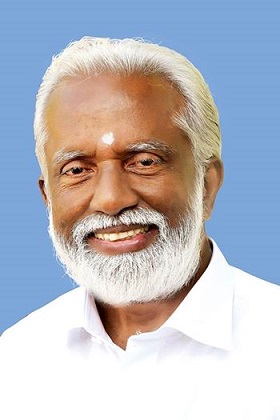 It has been rumored that Mizoram Governor Kummanam Rajasekharan is expected to come back to Kerala to take the leadership of Sabarimala protest. Senior journalist KVS Haridas has given intimation regarding about this. KVS has expressed this through his facebook.
Many people had wanted Kummanam to lead the protests at Sabarimala. However, he was busy with the elections in Mizoram. He is expected to arrive back in Kerala after the results and formation of new government in Mizoram."Kummanam will land at Thiruvananthapuram airport wearing black and saying that Lord Ayyappa had called him and he arrived'", writes KVS Haridas. In 1998, He participated in the movement against 'Nilakkal land encroachment'.
KVS Haridas known as KVS, is a senior journalist, columnist, and a political analyst. He was the Editor of Janmabhumi, the Sangh Parivar newspaper in Malayalam during the period from 1994 to 2006. Now he is a regular face in the Malayalam news channels in their daily discussions as a political analyst and has been rated high. He has written more than one thousand two hundred articles for various publications and more than 500 editorials for the Janmabhumi. Later on, in the last six-seven years, he has become the most considered spokesman of the BJP and other Nationalist organizations in Kerala.