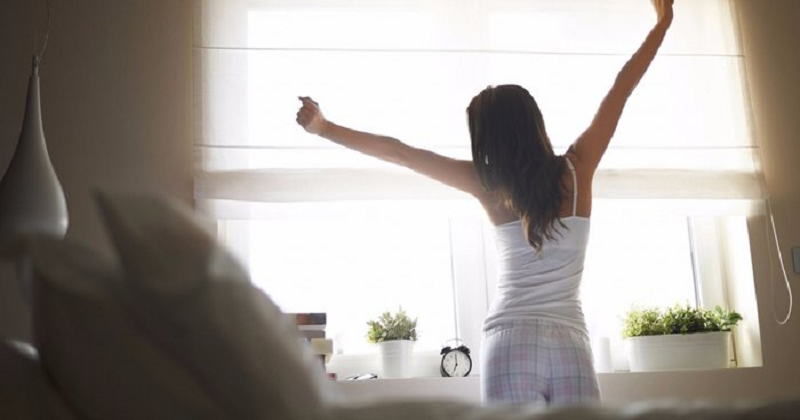 GET THAT GOOD SLEEP.
This one is obvious. A well-rested night sets you up for a less difficult wake up.
See more on sleep hacks here.
SET YOUR ALARM FOR A REALISTIC TIME.
Choose a time that is not overreaching.
If you normally actually get up at 7am, don't try to set an alarm for 5am. The possibility of that happening is pretty much zero, let's be honest. Try setting it for 6:30am. And then when you do that successfully for about 1-2 weeks straight, increase from there.
DO NOT HIT THE SNOOZE BUTTON.
This is simply all about habit and training here. There's no easy way or hack around this- just get your butt up when that alarm rings and hit the OFF button instead of snooze. You can set your phone or alarm clock far enough that you have to physically get up. I find it helpful to put it by a light switch so I immediately turn a light on after I shut my alarm off, to help me wake up.
3-5 MINUTES OF HAPPY YOU. SANS PHONE.
Whatever it is, take a few moments in silence to truly wake yourself up and have a little peace by yourself before an inevitably busy rest of the morning. It's pretty well known at this point too that looking at your phone, first thing in the morning is not so great. Don't get caught up in social media as soon as you wake up- it never ends up going well.
Starting off on a happy, peaceful note seriously changes everything, in a great way.
Some suggestions:
Sit up in bed and stretch those arms, touch your toes, move your body around
Set your intentions for the day
Think about what you're grateful for, today
Turn on feel-good music and dance around
If you're not alone, snuggles & happy talk with your love
If you've got a furry companion, puppy/kitty snuggles to get those endorphins going
DRINK A WHOLE GLASS OF WATER.
Drink an entire glass of water. It wakes you up, gets your body hydrated after 7-8 hours of being asleep, and you can check 1 glass of water off your daily intake already!
Yet another thing done already for the day, BOOM. Do this before your coffee/tea