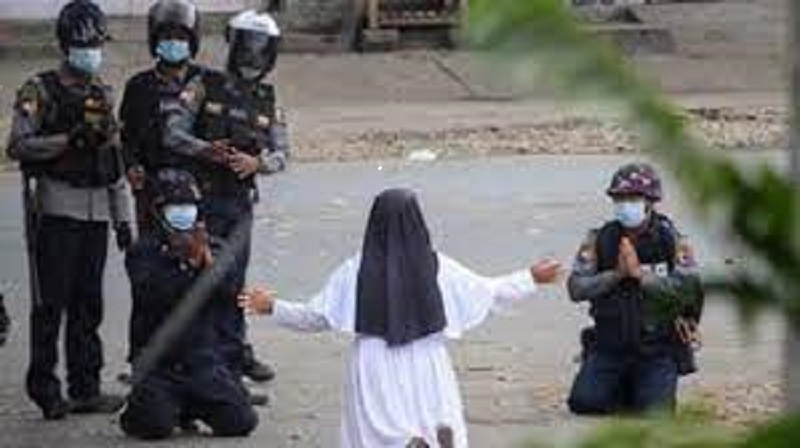 Sister Ann Rose Nu Tawng begged a batch of armed police officers not to harm the protestors, kneeling before them in northern Myanmar city
The image of a Catholic nun in a helpless situation has pleased many minds and went viral in the majority-Buddhist country. As she told on Tuesday, "I knelt down… begging them not to shoot and torture the children, but to shoot me and kill me instead,".
The nun's courageous act in the city of Myitkyina on Monday happened as Myanmar struggles with the chaotic aftermath of the military's February 1 ouster of civilian leader Aung San Suu Kyi.
Read more: "They Don't Know What They Are Doing "Photo of a Nun Pleading the Military not to harm the protestors goes viral
Tear gas, water cannon, rubber bullets, and live rounds were used to dismiss the protestors, amassed, demanding the return of democracy. The Protesters took over the streets of Myitkyina, the capital of Kachin state, on Monday wearing hard hats and carrying homemade shields.
Sister Ann Rose Nu Tawng and two other nuns begged the police to leave when they initiated  massing around them,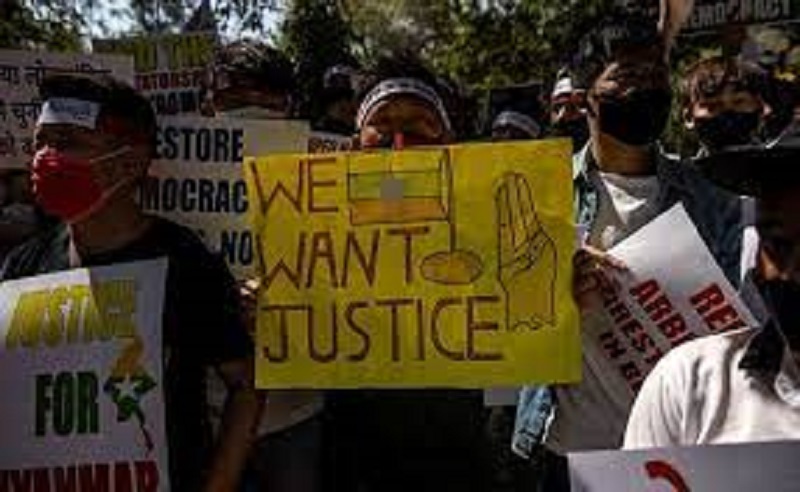 "The police were chasing to arrest them and I was worried for the children," she said.
It was at that point that Sister Ann Rose Nu Tawng fell to her knees.
"The children panicked and ran to the front… I couldn't do anything but I was praying for God to save and help the children," she said.
"I felt like the world was crashing," she said.
"I'm very sad it happened as I was begging them."
On Tuesday, one of the protestants, Zin Min Htet who was died was carried in a glass coffin and moved on a golden hearse blanketed in white and red flowers.
Grievers lifted three fingers in a symbol of resistance, as a musical group of brass instrument players, drummers and a bagpiper in crisp white uniforms escorted the funeral procession.