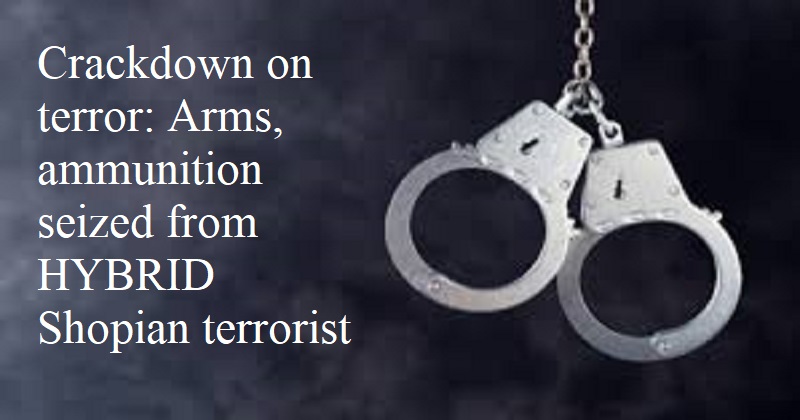 On Thursday, October 6, security authorities in Jammu and Kashmir's Shopian captured one hybrid terrorist and also took weapons and ammo from him, averting a significant terror danger. One hybrid terrorist, identified as Yawar Ahmed, a member of the Lashkar-e-Taiba, a banned terrorist organisation, was captured by the security forces in a combined operation carried out by the Jammu and Kashmir police, 44 Rashtriya Rifles, and Central Reserved Police Force (CRPF) (LeT).
The detained terrorist resides in Heff Zainpora, Shopian in South Kashmir, according to the J&K police. From the custody of the detained hybrid terrorist, security personnel seized a 9mm pistol, 12 rounds, and one magazine. Accordingly, a complaint has been filed against the terrorist, and an investigation is ongoing to determine the whereabouts of the terrorists who were leading him and the method by which he was obtaining his supply of weapons and ammunition.
'LeT-affiliated hybrid terrorist Yawar Ahmed S/O Ali Mohd Padder R/O Heff Zainpora was captured with weapons and ammunition, including a 9mm pistol', according to a statement from Shopian police. Notably, hybrid terrorists or part-time terrorists are people who are not on the security forces' list of terrorists and disappear unnoticed into normal life. They are only used once or twice by terrorist organisations to carry out terrorist activities.
Shopian crackdown on terrorism
The hybrid terrorist's capture comes as security forces continue to impede terrorist activities in this area of South Kashmir. In two separate encounter operations earlier on October 5 in Shopian, J&K, 4 terrorists were neutralised. In the Drach encounter operation, the security forces eliminated three local militants. Hanan Bin Yaqoob and Jamshed, who recently killed SPO Javed Dar in Pulwama as well as a foreign labourer from West Bengal, were two of the eliminated terrorists, according to the J&K police.
In the meantime, one terrorist from the outlawed terrorist group LeT was neutralised in the second incident that took place between a terrorist and security troops in Shopian's Moolu region. Additionally, on October 2, one LeT terrorist was also killed in Shopian by security personnel who had been informed to him.