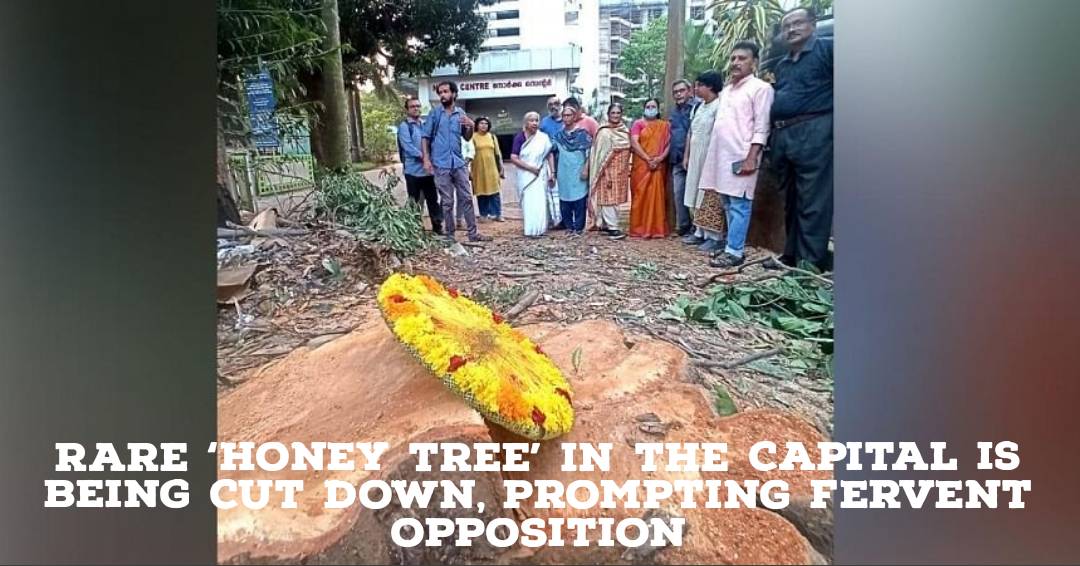 Strong public outcry has resulted in the cutting of a rare 'Honey tree' (Ilippa in Malayalam) that was located on the grounds of Norka Roots' office in Thycaud. On the branch of the downed tree on Monday, members of the Tree Walk organisation displayed a wreath in protest. The tree, which was the last uncommon tree in the state capital, has a high therapeutic potential, says the 'Tree Walk' participants.
'From what I gather, there were just two honey trees in the city. One was located on the grounds of Thycaud Mother and Child Hospital, while the other was in the Thycaud office of Norka Roots.'
'The first one was already cut down. We therefore sought to preserve this tree. But on Sunday, this tree was likewise chopped down. We intended to remove the tree's saplings and plant them in various locations throughout the city.' Anitha S., co-founder of Tree Walk, lamented the loss of the lone tree.
Additionally, the Tree Walk participants asserted that since the tree was cut down on a holiday, nobody could intervene. 'The Norka officials were unavailable when I tried to reach them because it had been a holiday for the previous three days.'
To find out why the tree was cut down, however, I have sent an email and will meet with the Norka police on Wednesday, Anitha continued. The contractor explained to the 'Tree Walk' participants that the tree was removed because it posed a danger to drivers and pedestrians.