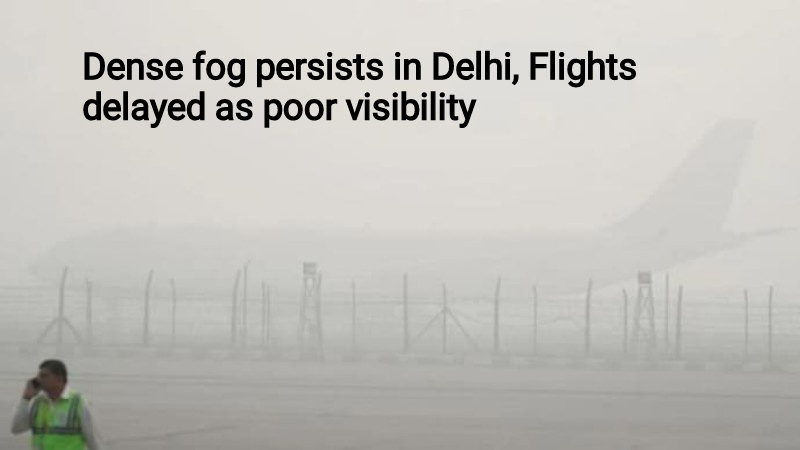 On Tuesday morning, the thick fog blanketing Delhi and the National Capital Region was still present, reducing visibility. Due to the national capital's poor visibility brought on by the fog layer, a few flights from Delhi were delayed.
Fog is categorised as 'shallow' when visibility falls below 1,000 metres, as 'moderate: when visibility is between 200 and 500 metres, and as 'dense' when visibility is below 200 metres, according to the India Meteorological Department (IMD). The term 'very dense' suggests a visibility of less than 50 metres.
Fog and cold in the nation's capital cause some flights (Delhi-Kathmandu, Delhi-Jaipur, Delhi-Shimla, Delhi-Dehradun, and Delhi-Chandigarh-Kullu) to be delayed. The news service ANI reported this. At 5.30 am on Tuesday, the Safdarjung Observatory recorded a temperature of 7.8 degrees, compared to 8.4 degrees in Delhi's Palam.
As the New Delhi Railways Station was engulfed in fog on Tuesday morning, trains in North India were also impacted. Regular traffic and day-to-day operations at IGI Airport have also been impacted by the cold wave and heavy fog.
Since the beginning of 2023, temperatures have fallen to less than 5°C due to the thick fog and accompanying cold wave conditions. High levels of moisture in the air across Punjab and extending to Chandigarh, Delhi, and Uttar Pradesh are to blame for the thick layer of fog, according to data from the India Meteorological Department (IMD) and satellite imagery.
The dense to very dense fog conditions are very likely to persist in some areas during the night & morning hours over Delhi over the next two days due to the predominating light winds and high moisture near the surface over the Indo-Gangetic plains. For the next three days, the area may also experience dense fog in a few isolated pockets.
The minimum temperature at the Safdarjung Observatory, the city's main weather station, dropped to a shivering 1.9 degrees Celsius on Sunday due to a severe cold wave, which made it the coldest January in two years.