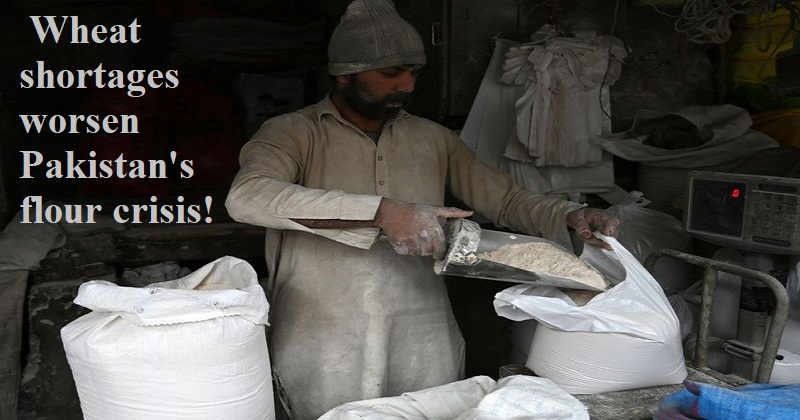 With stampedes reported at various locations around the provinces of Khyber Pakhtunkhwa, Sindh, and Balochistan, Pakistan is experiencing its worst-ever flour crisis. Every day, tens of thousands of people spend hours trying to obtain subsidised sacks of flour that are already in low supply. Conflicts have been recorded at flour merchants and tandoors on many occasions, with customers attempting to flee while carrying sacks of flour.
A 10 kg bag of flour is being sold at Rs 1,500 in Peshawar and Islamabad and a 20 kg bag costs Rs 2,800. Balochistan's Minister for Food Zamarak Achakzai has said that the wheat stock in the province had 'completely ended'. The province urgently needs 400,000 sacks of wheat and warned that otherwise, the crisis could intensify.
Pakistan ??? ?? ?????…?? ?????…?? ???? ???? ????? ??? ?? ???? ?? ??? ?? ??? ???…#PakistanEconomy #Pakistan pic.twitter.com/EzoI2LoSc9

— Jyot Jeet (@activistjyot) January 9, 2023
A person died in the Mirpurkhas stampede during the sale of the Sindh government's subsidized flour to the people. The police said that a 40-year-old labourer Harsingh Kolhi fell on the road during the chaos and was trampled upon by the surrounding people. Similar scenes of chaos were seen in other parts of Sindh where flour was being sold through mini-trucks or vans.
A resident in Peshawar has revealed that the people, including the poor and rich, have concerns regarding wheat flour. The situation has angered people in Khyber Pakhtunkhwa as the tandoors have also increased the price of bread. Thousands of people have to spend hours every day to get the subsidized bags that are already short in supply.