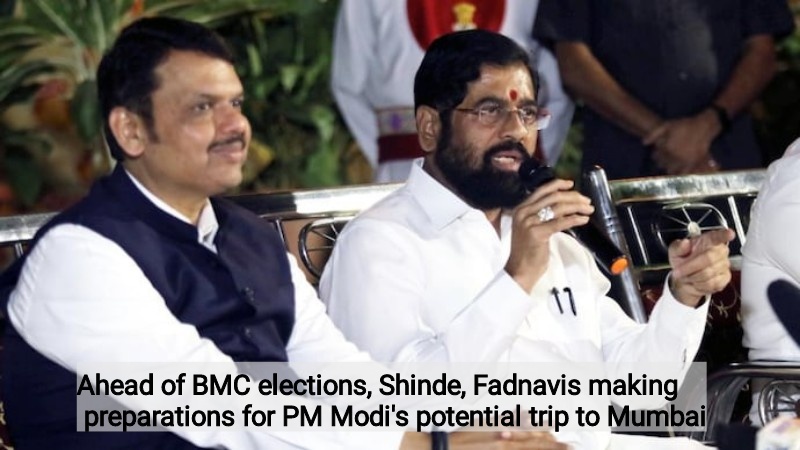 On Tuesday night, the MLAs and MPs of Mumbai met with the chief minister, Eknath Shinde, and his deputy, BJP leader Devendra Fadnavis to discuss preparations for Prime Minister Narendra Modi, who is anticipated to visit Mumbai on January 19.
Prime Minister Narendra Modi is scheduled to visit Mumbai and dedicate infrastructure projects like Metro line 2A, 7, and a solid waste treatment facility (STP).
In order to raise the spirits of party members ahead of the upcoming Brihanmumbai Municipal Corporation elections in Mumbai, Prime Minister Narendra Modi is also likely to speak at a party gathering.
It will be Prime Minister Narendra Modi's first trip to Mumbai since the Maha Vikas Aghadi government under Uddhav Thackeray was replaced by the Shinde-Fadnavis government in Maharashtra.
The Mumbai chapter of the BJP has also put in a lot of effort to give PM Modi a rousing welcome when he visits Mumbai. It will be a show of force between the Nationalist Congress Party (NCP), the Congress, and Maha Vikas Aghadi's Shiv Sena against the BJP and CM Shinde's 'Balasahebanchi Shiv Sena.'
A total of 227 seats were up for election in the BMC in 2017, and the Shiv Sena won 84 seats to the BJP's 82. For the past 25 years, Shiv Sena has controlled the wealthiest municipal corporation in India. After a historic split in Uddhav Thackeray's Shiv Sena, the BJP may win the upcoming BMC elections alongside CM Shinde's Shiv Sena faction.