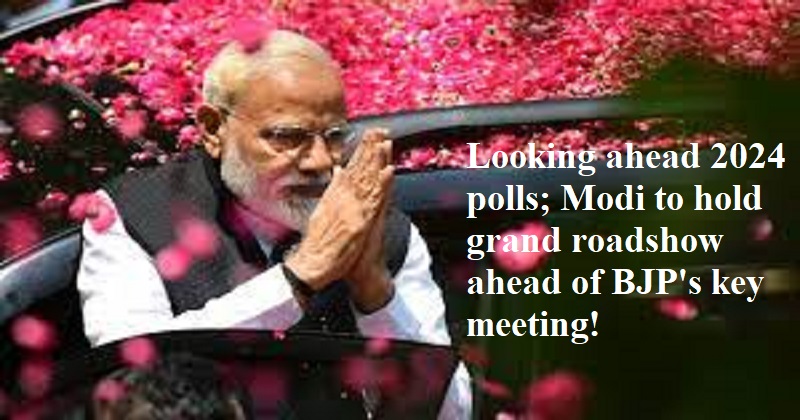 In preparation for the 2024 Lok Sabha elections, the Bharatiya Janata Party (BJP) will host a large roadshow for Prime Minister Narendra Modi today in the capital. From Patel Chowk in Delhi to the NDMC conference centre, the roadshow will be held. A sizable audience is anticipated for the event, which is set to start at 3 pm. Following the roadshow, the BJP will have a two-day conference to discuss its electoral strategy for the assembly and general elections and, most likely, to approve an extension of the term of JP Nadda, party national president.
PM Narendra Modi, several Union ministers, chief ministers of the Bharatiya Janata Party-ruled states will attend the meeting. Nadda's three-year term as the national president ends this month and he is likely to lead the party till the 2024 Lok Sabha elections are over. The meeting will finalise the party's future course of action of the BJP, general secretary Vinod Tawde said.
Delhi Police issues traffic advisory for PM Modi's roadshow. Delhi Police has imposed traffic restrictions on certain roads in view of the BJP roadshow to be attended by PM Modi. Special arrangements will be in place to ensure smooth traffic management in the vicinity of the roadshow route, police said. Ashoka Road (Windsor Place to GPO, both carriageways), Jai Singh Road, Sansad Marg, Tolstoy Road, Rafi Marg, Jantar Mantar Road, Imtiaz Khan Marg and Bangla Sahib Lane are affected.
Traffic police has advised people to avoid Connaught Place, Talkatora Road, Panchkuain Road and other stretches of Delhi's roads during the roadshow. The advisory further stated that traffic will be diverted from Gol Dak Khana, Gurdwara Rakab Ganj, Windsor roundabout, Rail Bhawan, Outer Connaught Circus-Sansad Marg and Tolstoy Road-KG Marg. Commuters going to New Delhi Railway Station, Old Delhi Railway, Nizamuddin Railway Station and ISBT have been suggested to leave with sufficient time to accommodate possible delays.
Additionally, the traffic police has advised commuters to park their cars only in approved parking areas and to use public transportation to assist relieve traffic congestion. 'Avoid parking by the roadside since it impedes the regular flow of traffic. The police should be informed if any strange, unidentified object or person is seen under suspicious circumstances', said the warning.