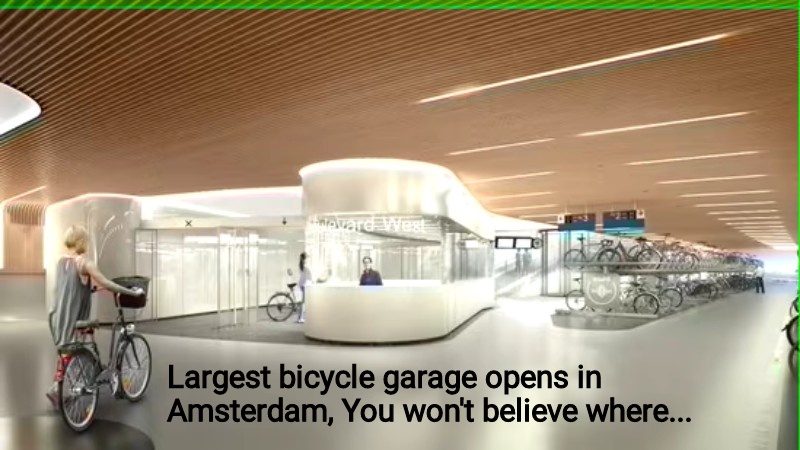 As parking spaces for the city's hundreds of thousands of bicycles continue to get smaller, Amsterdam opened the first of its largest-ever bicycle parking complexes on Wednesday. The complex was built underwater as part of a ground-breaking engineering project.
A second shelter will be built next to the IJ river itself and will open in February after the first one, which is built beneath the Open Haven Front, a city access tributary to the IJ river.
In the cycling-obsessed Dutch capital, they can hold 11,000 bikes in total.
The Amsterdam municipality claimed that when the two shelters are combined, they will be the biggest in the city, with the Open Haven Front storage holding 7,000 bicycles and the IJ-side location holding about 4,000.
In order to begin the construction, a section of the Open Haven Front next to Amsterdam Central Station had to be drained.
The Amsterdam city government posted a time-lapse video that demonstrated how the area was eventually reflooded after the water was pumped out and the structure built.
At the opening ceremony, Dutch deputy infrastructure minister Vivianne Heijnen told AFP, 'We have a lot of knowledge and expertise when it comes to water.'
According to her, this storage 'makes the most of the space you have in a small country.'
According to wUrck, the architectural firm that created the ultramodern parking spaces that seek to evoke their oceanic surroundings, conveyor belts take cyclists nine metres (30 feet) below ground level.
The company stated in a statement, 'The cyclist steps into an imaginary oyster with a rough exterior of basalt and natural stone and a smooth, light interior.'