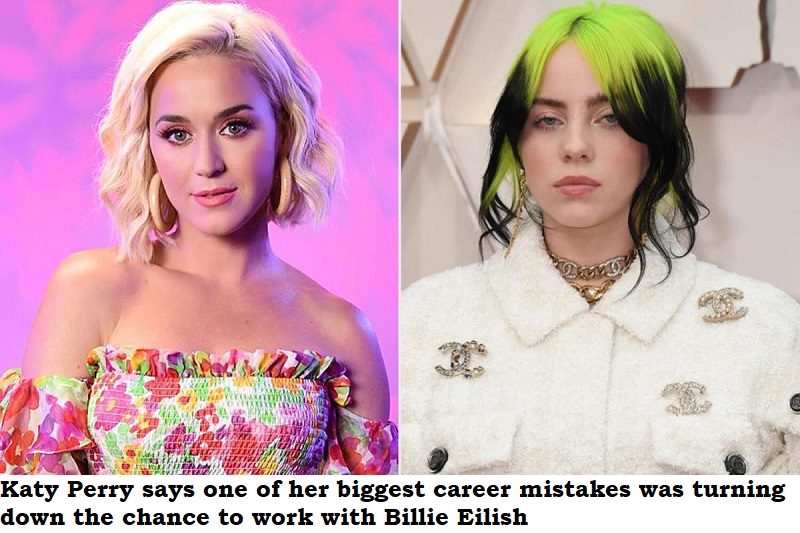 American singer-songwriter Katy Perry recently admitted that she believes that passing up the chance to collaborate with Billie Eilish was one of her worst career mistakes during a Q&A session at a private event for Los Angeles-based station KIIS-FM. She admitted that she declined the offer because she believed working with 'only a blonde female' would be too 'boring.'
The singer discussed the issue in detail, revealing that in 2016, one of her friends requested that she review Billie's work. She decided not to collaborate with Eilish at the moment since she didn't find her fascinating. But she had no idea that Eilish would become one of Gen-most Z's popular performers.
Eilish told the audience that her friend sent her an email about Eilish, which read, 'Hey, check out this new artist. I'd really like us to work with her because she was working with me for Unsub (Records).'
'It was a song called Ocean Eyes, and it was just a blonde girl, and I was like, 'Meh, boring," she said.
'Big mistake, huge mistake,' she added.
After the success of her song 'Ocean Eyes', Billie won multiple awards and become the youngest singer in history to headline Glastonbury. She also received a Golden Globe Award and an Oscar for her song 'No Time To Die' which featured as the swan song for Daniel Craig's James Bond.