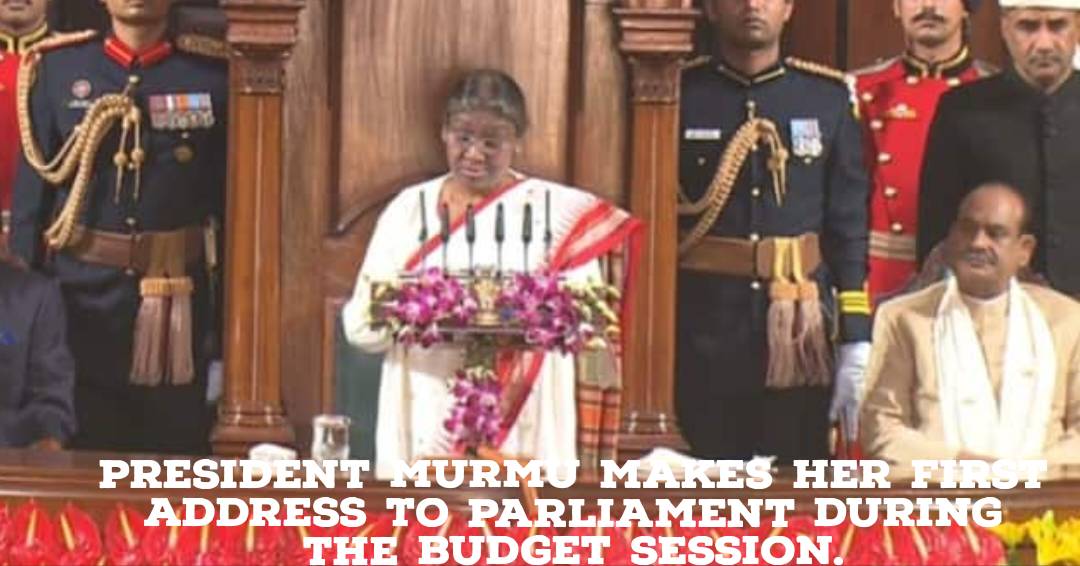 President Droupadi Murmu's inaugural address to the joint session of the two Houses of Parliament on Tuesday marked the beginning of the budget session of Parliament. The main focus of the speech is on the accomplishments and agenda items of the government.
Before the session on Tuesday, her cavalcade and the President's Bodyguards on horses rode along Raisina Hills.
Prime Minister Narendra Modi, Speaker of the Lok Sabha Om Birla, Vice President and Chairman of the Rajya Sabha Jagdeep Dhankhar, among other dignitaries, welcomed her.
Following the president's speech on Tuesday, the Economic Survey will also be presented.
The President noted that numerous beneficial improvements had been seen by the Indian people for the first time during the last nearly nine years of his administration.
T 'Amrit Kaal's 25-year reign represents the pinnacle of Indian freedom and the beginning of the country's development. 'India will need to become self-sufficient' During her speech to the parliament, President Murmu made a statement.
The President added that an effective mechanism has been put in place to combat corruption and that it is the largest threat to social justice and democracy.
'The confidence of every Indian is at an all-time high, and the way the world views India has changed,' she continued.
The President added that in addition to transparency, taxpayers' dignity is preserved through GST.
Congress MPs stuck in Srinagar
Due to delayed flights from Srinagar airport as a result of bad weather, some Congress MPs, including the leader of the opposition in the Rajya Sabha Mallikarjun Kharge, won't be able to attend the President's address to both Houses of Parliament on Tuesday.
For the Bharat Jodo Yatra's closing ceremonies on Monday, several Congress leaders and MPs are in Srinagar.
Congress and other opposition parties prepared to criticise the government on a number of matters, including the Adani-Hindenburg dispute, while the Centre stated it was willing to address any topic that was permitted by the rules.