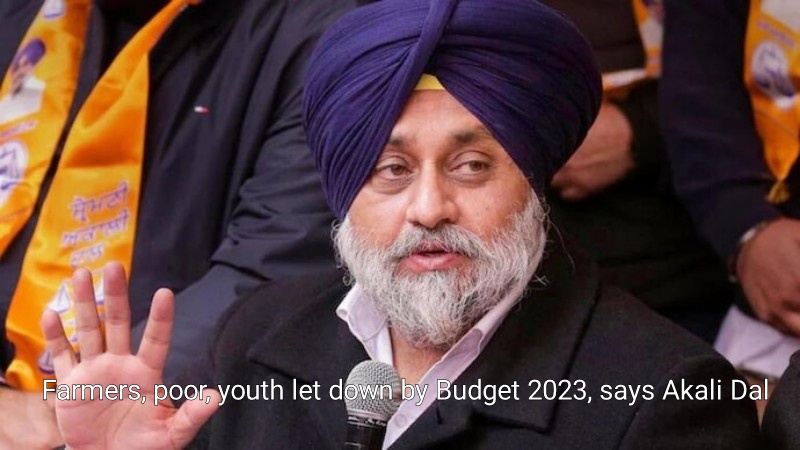 Sukhbir Singh Badal, president of the Shiromani Akali Dal (SAD), responded to the Union Budget 2023–24 that was unveiled on Wednesday by claiming that it failed the nation's farmers, rural poor, and youth. The budget, according to the SAD leader, did nothing to revive Punjab's agricultural and industrial sectors.
According to Sukhbir Badal, farmers were promised a doubling of their agricultural income. The government 'has not ensured assured government procurement for food grains at the minimum support price (MSP)—far from doing anything to realise this goal.'
He continued by saying that the Union government had fallen short of keeping its promise to provide pucca houses for everyone by 2022.
The SAD President added that because they had not received the '16 crore jobs as promised at a rate of two crore jobs per year,' young people had also been duped by the Budget.
Sukhbir Badal responded to the Punjabi context of the Budget by stating that farmers were disappointed that new funds had been set aside for the diversification of crops in the state.
'This is necessary to tackle the problem of groundwater depletion. Similarly, nothing was done for border farmers who are farming under adverse conditions,' he added.
Speaking of the government's focus on millets, Badal asserted that it would only be successful if all millet crops were purchased at a fair MSP.
The SAD president claimed that a lean period was affecting Punjab's industries. 'It's unfortunate that the Union government has not done anything to incentivise industries in Punjab. Earlier too, Punjab lost out when hill states were given tax cuts,' he added.
The lack of a major institution or project allocated to Punjab in the Union Budget for 2023–24 was deemed 'unfortunate' by Badal.