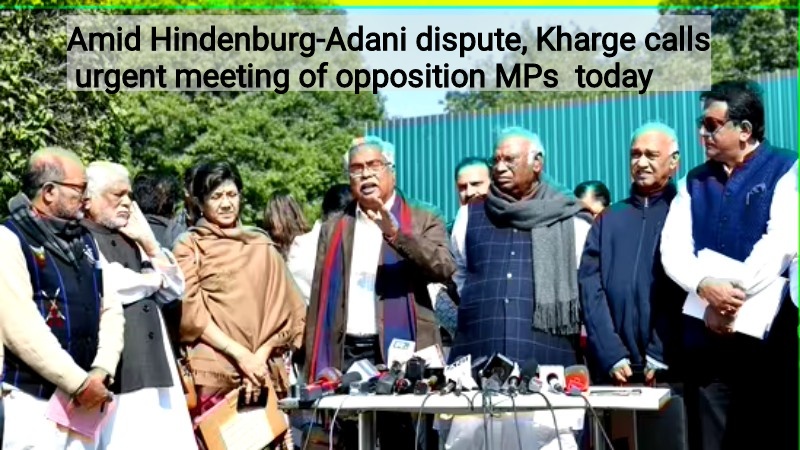 Mallikarjun Kharge, the leader of the opposition in the Rajya Sabha, has scheduled an urgent meeting of opposition leaders for Friday morning at 10 a.m. in his office in the House of Representatives to plan their approach to the floor of the House during the ongoing budget session.
After the Parliament was roiled by the Hindenburg-Adani dispute, both Houses broke for the day on Thursday. In order to look into the allegations made in the Hindenburg report against the Adani Group, the Congress-led Opposition demanded either an impartial investigation conducted under the direction of the Supreme Court or a joint parliamentary committee.
Following the chair's rejection of several members' requests for an adjournment in this matter in both the Lok Sabha and the Rajya Sabha, which forced the adjournment of the Houses for the day, the opposition parties also caused a stir. The Houses were empty of business.
On February 6, the Congress made the decision to demonstrate in front of the LIC and SBI offices in every district of the nation.
President of the Congress Kharge called it a 'scam' and claimed that the opposition parties had also demanded daily reporting of the joint parliamentary committee's (JPC) or Supreme Court-monitored investigation into the use of public funds.
'Keeping public interest in mind, we want a thorough probe into the Adani issue either by a joint parliamentary committee or a Supreme Court-monitored probe. There should also be day-to-day reporting of the investigation on the issue,' he told reporters.
Earlier, the SC-monitored investigation or the JPC probe into the dispute was demanded by the Congress, which was backed by a number of other opposition parties, including the DMK, TMC, SP, JD(U), Shiv Sena, CPI(M), CPI, BRS, NCP, IUML, NC, AAP, Kerala Congress, and RJD.
On February 13, the first portion of the Parliamentary session will come to an end. The second part of the budget session, which begins on March 12 and ends on April 6, will be held in the House.