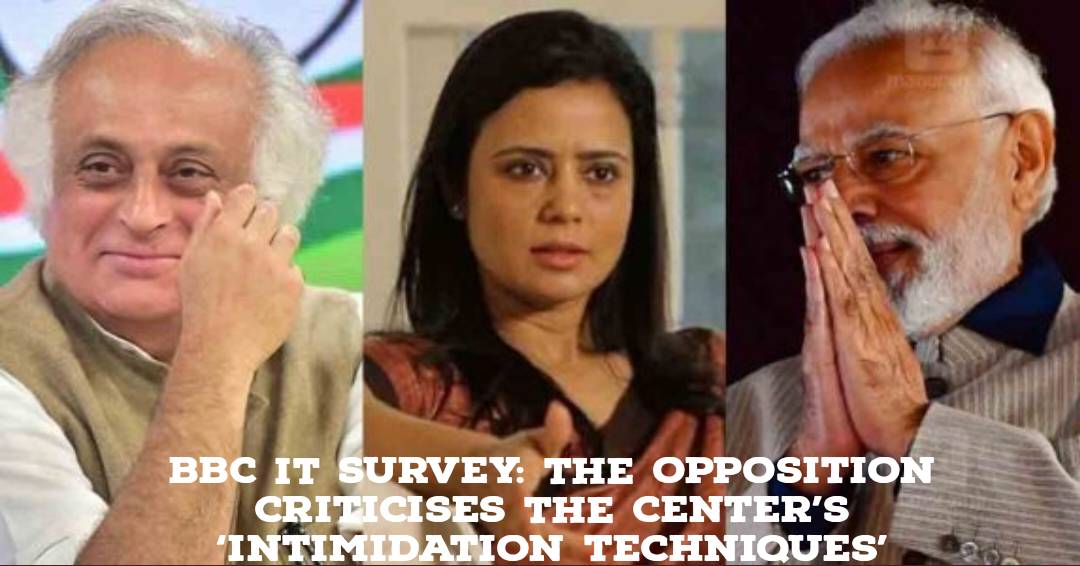 The Income Tax survey operation at the BBC offices was dubbed 'intimidation tactics' on Tuesday by the Congress, which claimed that the move revealed the Modi administration's fear of criticism.
As part of a probe into potential tax fraud, the Income Tax Department launched a survey operation at the BBC's offices in Delhi and Mumbai on Tuesday, says the officials.
While the party is calling for a Joint Parliamentary Committee investigation into the Adani situation, the 'government is after the BBC,' said Congress national secretary Jairam Ramesh.
In addition, he utilised the Hindi proverb 'Vinash Kale, Vipreet Buddhi' (When doom comes, a person's intellect works against his benefit) to criticise the government.
'When it comes to the Adani problem, we are requesting JPC, but the government is wanting the BBC. Viprit Buddhi Vinash Kale,' said Ramesh.
The IT raid at the BBC's premises, according to Congress General Secretary (Organization) K C Venugopal, 'reeks of desperation and demonstrates that the Modi government is afraid of criticism.'
'We vehemently reject these intimidation techniques. This autocratic and anti-democratic behaviour must stop,' In a tweet, he stated.
In the meantime, in an apparent jab at Adani Group CEO Gautam Adani, TMC MP Mahua Moitra questioned whether the 'raids' on the BBC headquarters would be followed by one on 'Mr A.'
She tweeted, tagging SEBI and the Enforcement Directorate, 'Since agencies performing these Valentine Day 'Surveys,' how about @IncomeTaxIndia, @SEBI India & @dir ed conduct one on govt's most cherished sweetheart Mr. A?'
'reports of an Income Tax raid at the BBC office in Delhi. Really? wow How unforeseen. When Adani stops by the Chairman @SEBI India office for a conversation, farsaan seva would be performed for him' a TMC MP stated in a different tweet.
Following the presentation of the two-part documentary 'India: The Modi Question,' the IT Department took this move.