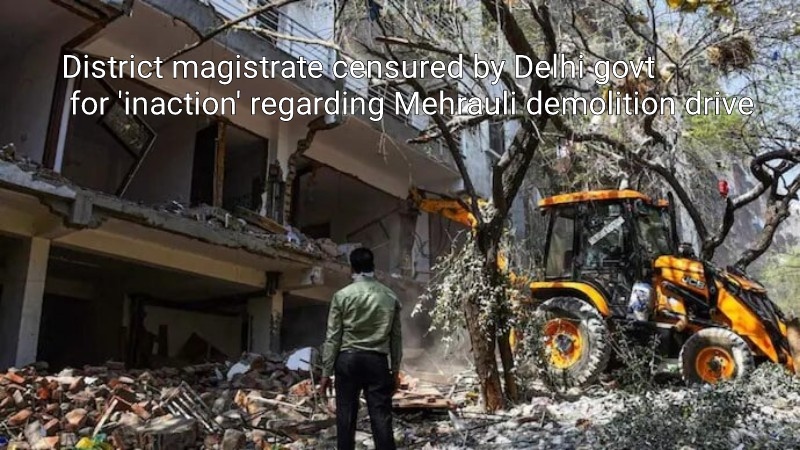 The District Magistrate? (South) was ordered by Revenue Minister Kailash Gahlot to conduct a new demarcation in the contentious area, but the Delhi government has accused him of 'inaction' regarding the Mehrauli demolition drive.
In accordance with a government note made public on Tuesday, the DM (South) did not ask the DDA to stop or follow the demarcation order.
The note stated, 'I am informed that none of the above directions has been complied with. In the face of large-scale demolition by the DDA, such non-compliance by DM (South) with regard to the demarcation exercise which is the basis for carrying out demolition activities, makes DM (South) complicit in the whole affair.'
The revenue minister also forwarded a copy of the order to the vice-chairman of the DDA, emphasising that demarcation was a requirement for carrying out the demolition.
'DM (South) is once again directed to comply with the directions contained in my aforesaid UO with immediate effect under intimation to my office….' stated Kailash Gahlot in the notice.
The demolition drive in Mehrauli was initiated by the Delhi Development Authority (DDA) earlier on February 10 amid police security.
The land where the demolition is taking place, according to the demolition notice, is a part of the Mehrauli Archaeological Park, and the 'existing unauthorised encroachment' is impeding the park's development.
Declaring the demarcation exercise to be 'inappropriate,' The village of Ladha Sarai is a densely populated area, and Kailash Gahlot stated, 'It is an admitted position that the building/residential houses in the said village are very old.'
'Before the demarcation of the Khasra Nos. in question, no notice was served to the occupants of the said Khasra Nos. and obviously there was no participation of the said occupants at the time of conducting the said demarcation. Thus, it is apparent that the said demarcation has been conducted by keeping the occupants in the dark and no hearing of any nature whatsoever was given to the aggrieved persons,' pointed Kailash Gahlot.