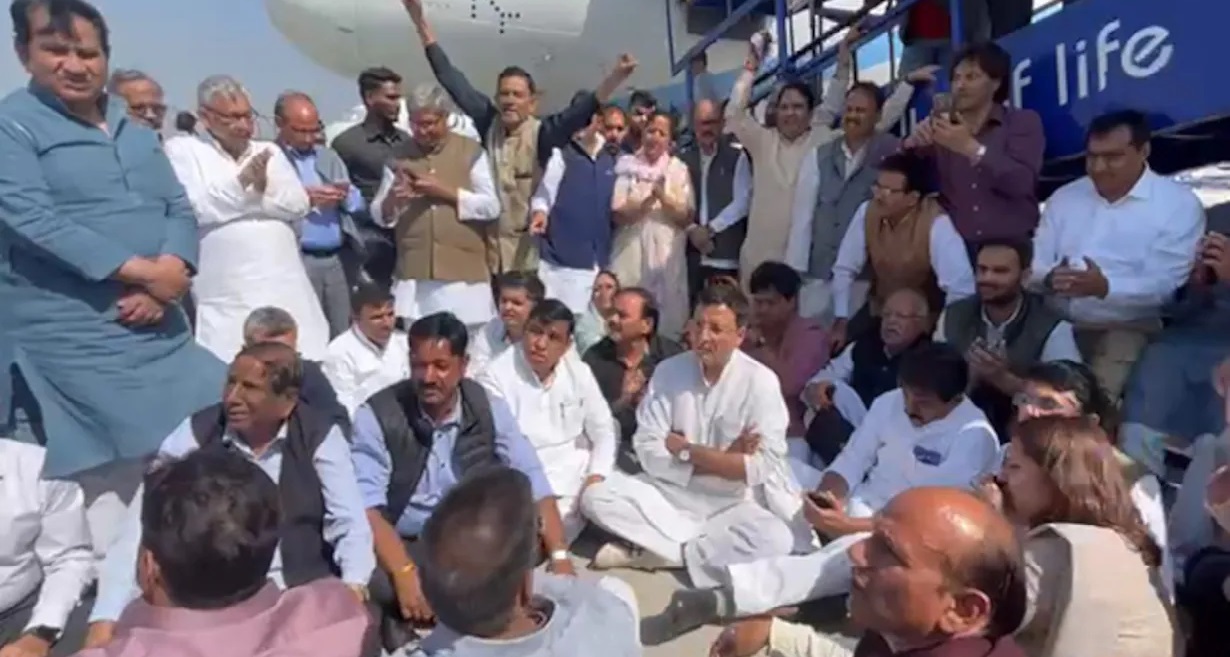 New Delhi: Congress leader Pawan Khera was stopped from flying out of Delhi to Chhattisgarh capital Raipur this morning, after which nearly 50 party leaders launched a rare protest on the tarmac, next to the aircraft. Pawan Khera, a senior Congress spokesperson, was allegedly forced to exit an IndiGo flight, despite a boarding pass, moments after party leaders boarded the plane.
The Congress leaders were flying to Raipur for a meeting of the All India Congress Committee (AICC). Scores of Congress leaders got off the plane and protested on the Delhi airport tarmac, shouting slogans and staging a sit-in right next to the aircraft. There were reports that an Assam Police team had arrived at the airport to arrest the leader.
IndiGo Airline sources said Khera was deplaned on being served an FIR or First Information Report. There was 'no impact' on flights, they said. Pawan Khera said he was told that the police would meet him. 'I was told that there is an issue with my baggage, though I only had hand baggage. They told me you can't fly. Then they said the DCP (Deputy Commissioner of Police) will meet you. I have been waiting for a long time. There is no sign of law and order', he said.
The Congress alleged that Pawan Khera was stopped without an arrest warrant. 'This is nothing but a rattled government and its high-handedness', Congress's Supriya Srinate told media. The BJP has demanded Khera's arrest over allegations that he insulted Prime Minister Narendra Modi. An FIR was filed after a BJP leader filed a police complaint.
'Modi government is acting like a bunch of goons by deplaning Pawan Khera from the Delhi-Raipur flight and preventing him from joining the AICC Plenary. Using a flimsy FIR to restrict his movement and silence him is a shameful, unacceptable act. The entire party stands with Pawan ji', tweeted KC Venugopal, a senior Congress leader.
At a recent press conference, Khera flubbed PM Modi's name while demanding a joint parliamentary probe into the Adani-Hindenburg row. 'If Narasimha Rao could form a JPC (Joint Parliamentary Committee), if Atal Bihari Vajpayee could form a JPC, then what problem does Narendra Gautam Das…sorry Damodardas…Modi have?' he said, appearing to confirm the middle name with a colleague. The BJP insists that Khera's fumble was deliberate.