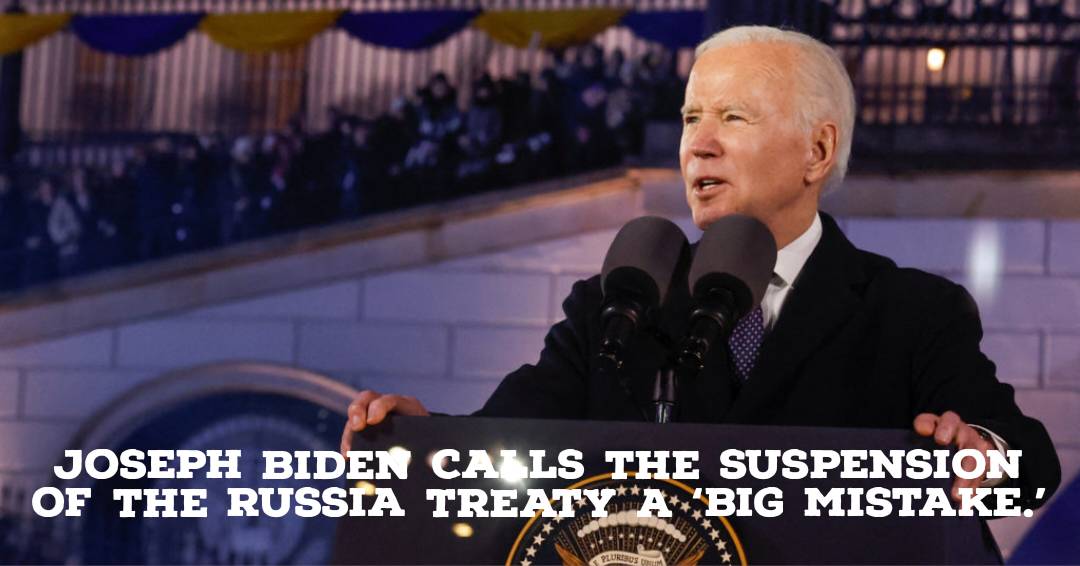 On Wednesday, US Vice President Joe Biden called it a 'huge mistake' for Russia to pull out of a nuclear arms accord with the US.
The suspension of Moscow's participation in the New START arms deal was announced by Russian President Vladimir Putin the day before he spoke.
Prior to a meeting with the leaders of six nations on NATO's eastern flank to discuss support for the conflict-torn Ukraine, President Biden made the brief remark in Warsaw.
Joe Biden initially made light of the request for his response to Russia's decision by saying he didn't 'have time.'
After a little pause, he continued, 'Big error.'
With the signing of New START, Russia and the United States agreed to reduce the number of nuclear warheads they possess.
After Vladimir Putin's declaration, the suspension of Moscow's participation in the treaty was overwhelmingly endorsed by Russian MPs on Wednesday.
Russia's foreign ministry informed that, the country will continue to abide by the treaty until its expiration in early 2026.
The treaty's suspension by Russia was 'reversible,' it said, adding that America 'must show political will.'
Despite describing Russia's action as 'very sad and reckless' on Tuesday, US Secretary of State Antony Blinken stated that Washington was still open to discussing the matter.
The move by Russia, according to NATO Secretary General Jens Stoltenberg, 'dismantles the entire arms control infrastructure.'