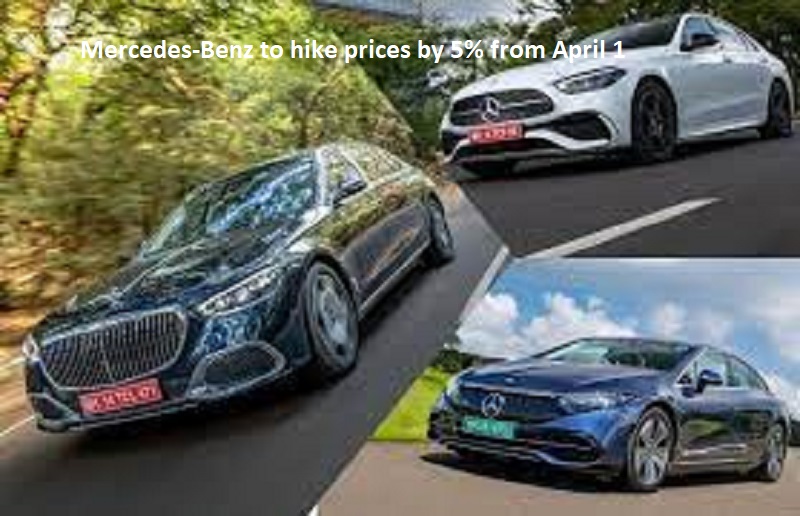 Mumbai: Luxury carmaker Mercedes-Benz India has announced that it will  increase prices of its vehicles ranging between Rs 2 lakh to Rs 12 lakh across different models from April 1. The decision was taken due to  surge in  input costs specially the adverse impact of foreign exchange.  This is the second price rise by the company in three months. The ex-showroom price of the company's model range will increase by up to 5% from April 1, 2023.
New price range for the model range:
SEGMENT        MERCEDES-BENZ SELECT MODEL RANGE     NEW PRICE FROM 1-APRIL '23
Luxury A 200 | A 220d            44 lakhs | 46 lakhs
Luxury GLA 200 | GLA 220d   48.50 lakhs | 50 lakhs
Core Luxury     C 200 | C220d 60 lakhs | 61 lakhs
Core Luxury     E 200 | E 220d            76 lakhs | 77 lakhs
Core Luxury     GLE 300d 4M | GLE 400d 4M 90 lakhs | 1 cr 8 lakhs
Top End Luxury           GLS 400d 4M   1 cr 29 lakhs
Top End Luxury           S 350d | S 450 4M      1 cr 71 lakhs | 1 cr 80 lakhs
Top End Luxury           Mercedes-Maybach S 580      2 cr 69 lakhs
Top End Luxury           EQS 580           1 cr 59 lakhs
'In October it (Euro) was around 78-79 (to a Rupee) and now it is at 87. It is really putting pressure and if we don't take this proactive step now, it will deteriorate our overall business model in India,' said  the company.
Also Read: Gulf country imposes fine for hanging laundry on balcony 
As a result, from April, prices of the company's A-Class limousine will go up by Rs 2 lakh and GLA SUV by Rs 7 lakh for the top-end S 350d limousine, while the top-end Mercedes Maybach S 580 will see an increase in price by Rs 12 lakh.