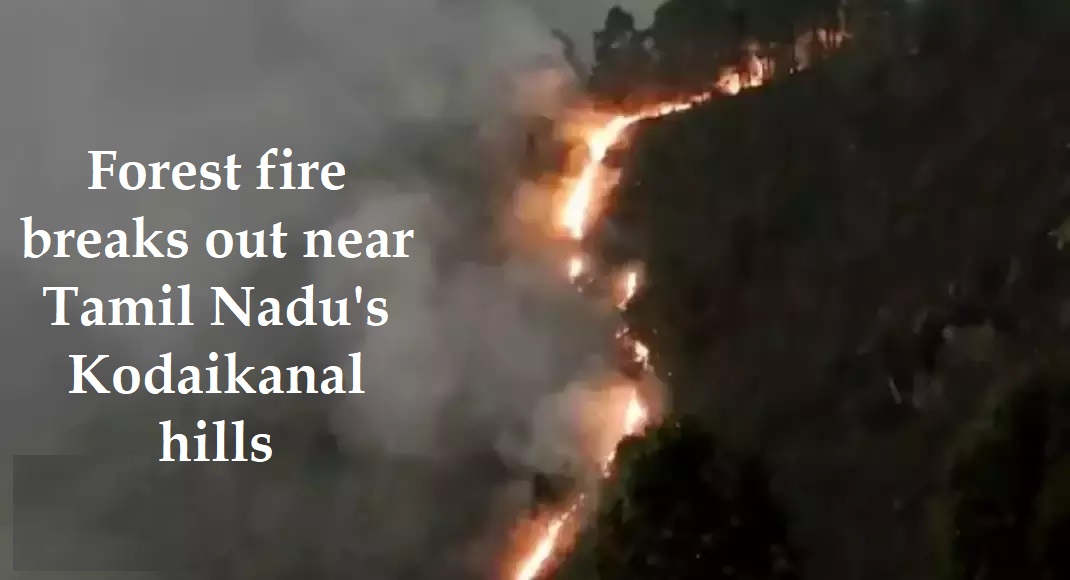 Dindigul: A massive fire has erupted in the forest area near Kodaikanal hills of Dindigul district in Tamil Nadu, officials said on Wednesday. Forest department officials said that they are working on controlling the forest fire. A video of the forest fire incident was also shared on social media.
More details about the incident are awaited. This forest fire comes days after a massive forest fire broke out in the Mhadei Wildlife Sanctuary in Goa. The Indian Airforce took up all required initiatives to tackle the forest fire and deployed helicopters to dispense water over the affected areas.
Indian Air Force's Mi-17 helicopter dispensed over 25,000 litres of water over forest fire-affected areas in Goa on March 11, the IAF said. According to information, 48 fire spots were detected from March 5 till Saturday. Of which, 41 fires have already been doused, while seven were reported to be active as on March 12. Further, as per the officials, the Indian Air Force is coordinating with the Indian Navy and the civil administration in combating forest fires in the affected areas of the coastal state.
With forest fires continuing to rage in Goa, the Union environment ministry on Saturday established a 24×7 control room to monitor real-time alerts generated by the Forest Survey of India (FSI). Earlier Goa Forest Minister Vishwajit Rane on Wednesday, informed that a detailed inquiry has been ordered into the Mhadei Wildlife Sanctuary fire. The inquiry was ordered after a discussion with Chief Minister Pramod Sawant.
The environment ministry also said that no major damage to flora and fauna has been observed till now and the impacted areas have been divided into sectors and duties have been assigned to DCF and ACF level officers to immediately attend to the fires, for intensive management of forest fires in close coordination with line departments.