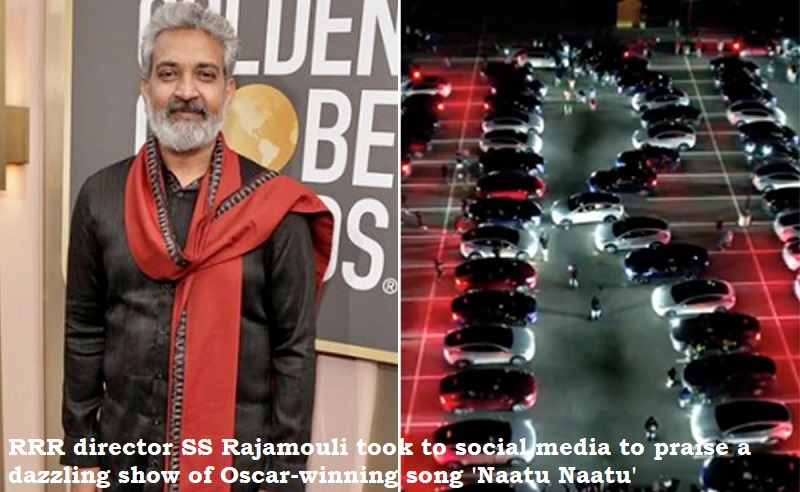 SS Rajamouli, the renowned Indian film director, expressed his gratitude towards a tribute paid to his song 'Naatu Naatu' from the movie 'Rise Roar Revolt' through a dazzling light show. The tribute was presented during a cultural event in Vijayawada, Andhra Pradesh, and was inspired by the recent Oscar win of the song's lyricist, Vivek.
Rajamouli took to Twitter to express his appreciation for the tribute, saying that it left him overwhelmed. He also praised the creativity and hard work put in by the team behind the tribute and expressed his desire to meet them in person.
'Naatu Naatu' is a popular song from the 2021 Telugu movie 'Rise Roar Revolt,' which was directed by Rajamouli's protege, Koduri Krishna. The song's lyrics were written by Vivek, who won the Best Original Song award at the 93rd Academy Awards for his work on the Tamil movie 'Mudhal Nee Mudivum Nee.'
The tribute to 'Naatu Naatu' was a grand spectacle, featuring a spectacular light show synchronized to the beats of the song. The performance was executed by a team of artists from the Sri Sai Lights and Sound company, who used over 5000 lights and 150 sound systems to create the stunning display.
The tribute was widely praised by the audience, who lauded the creativity and effort put in by the team. The organizers of the event said that they wanted to pay homage to Vivek and his work, and the tribute to 'Naatu Naatu' was their way of doing so.
Rajamouli's appreciation for the tribute has further added to the buzz around 'Naatu Naatu,' which has already become a fan favorite. The song's win at the Oscars has also brought it widespread recognition and has put a spotlight on the talent of Vivek and the creative team behind 'Rise Roar Revolt.'