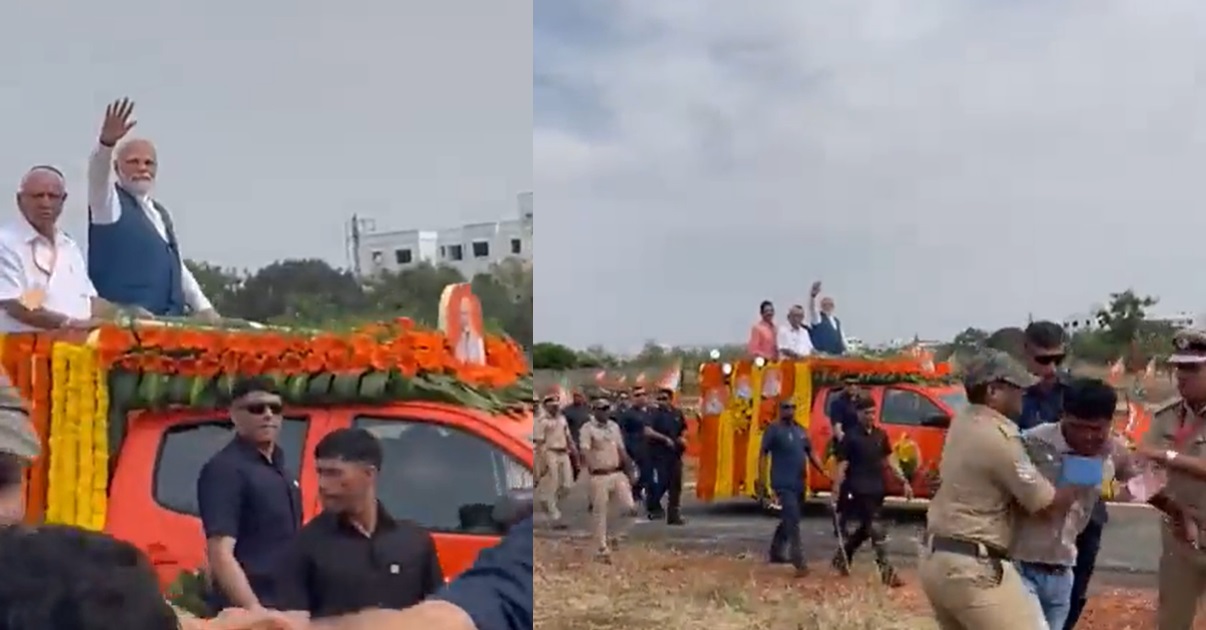 Davanagere: Prime Minister Narendra Modi's security was breached on Saturday during his roadshow in Karnataka when a man tried to run towards his convoy, informed Karnataka police. The man, hailing from Koppal, was detained, police informed further.
No further details were available at the time of filing this report. In August last year, the Supreme Court, with regard to an earlier security breach during PM Modi's visit to Punjab on January 5, 2022, said the five-member committee it appointed to look into the matter had concluded that the Ferozepur SSP failed to discharge his duty though sufficient forces were available.
#WATCH | Karnataka: Security breach during PM Modi's roadshow in Davanagere, earlier today, when a man tried to run towards his convoy. He was later detained by police.

(Visuals confirmed by police) pic.twitter.com/nibVxzgekz

— ANI (@ANI) March 25, 2023
A bench of Chief Justice NV Ramana and Justices Surya Kant and Hima Kohli said, while reading out the committee's report, that the committee headed by a former top court judge, Justice Indu Malhotra, said there should be an oversight committee for periodic revision of the 'Blue Book'. 'The Ferozepur SSP failed to discharge his duty to maintain law and order. He failed to do this even though sufficient force was available and even though he was informed two hours in advance that Prime Minister will enter that route', it said.
The Prime Minister was stuck atop a flyover for 15-20 minutes while on his way to Ferozpur, Punjab in January 2022 due to the road being blocked by some protesters. The Ministry of Home Affairs termed it as a 'major lapse' in PM Modi's security.