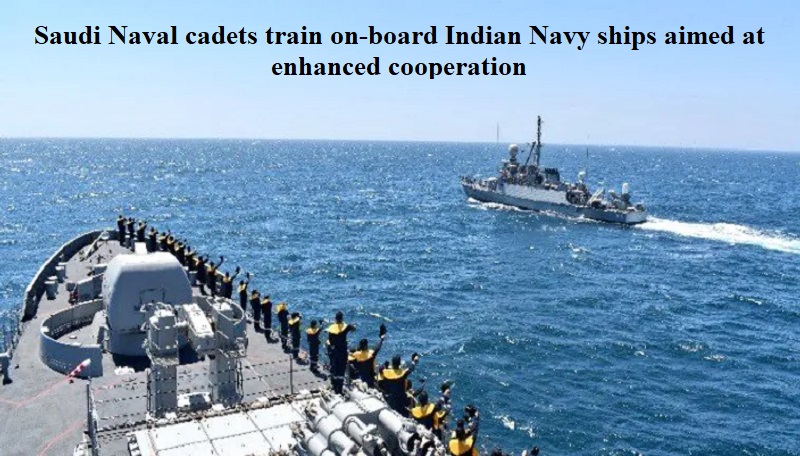 In a significant move to strengthen cooperation between the Indian Navy and the Royal Saudi Naval Force, cadets from the latter are currently in India for a 24-day afloat training program. A group of 55 cadets and five Directing Staff from the King Fahd Naval Academy in Saudi Arabia arrived in Kochi, the headquarters of India's Southern Naval Command, marking their first-ever training opportunity with the Indian Navy.
The visiting cadets and staff members arrived aboard the Indian Navy's First Training Squadron (1TS) ships, namely INS Tir and INS Sujata. Throughout their stay in India, they will undergo hands-on training in various areas such as seamanship, navigation, firefighting, and emergency drills on board the ships.
To gain firsthand experience of life on a sailing ship, the cadets will also have the opportunity to sail aboard the Sail Training Ship INS Sudarshini. The First Training Squadron of the Indian Navy is where newly-commissioned Naval officers receive their initial training to further familiarize themselves with life at sea.
As the Training Command of the Indian Navy, the Southern Naval Command in Kochi houses various training establishments, including the Gunnery School INS Dronacharya, Naval Institute of Aeronautical Technology, Diving School, Anti-Submarine Warfare School, and School for Naval Aviation. Additionally, there are Naval Training facilities located across the country.
One such prominent facility is the Indian Naval Academy, situated in Kerala at Ezhimala, which provides ab-initio training to Indian Naval Officers. As part of India's military diplomacy initiatives towards friendly foreign nations, the Indian Naval Academy, being the largest facility of its kind in Asia, extends its training opportunities to cadets from numerous foreign navies.
This training exchange program between the Indian Navy and the Royal Saudi Naval Force not only strengthens bilateral ties but also promotes mutual understanding and knowledge sharing in maritime affairs.