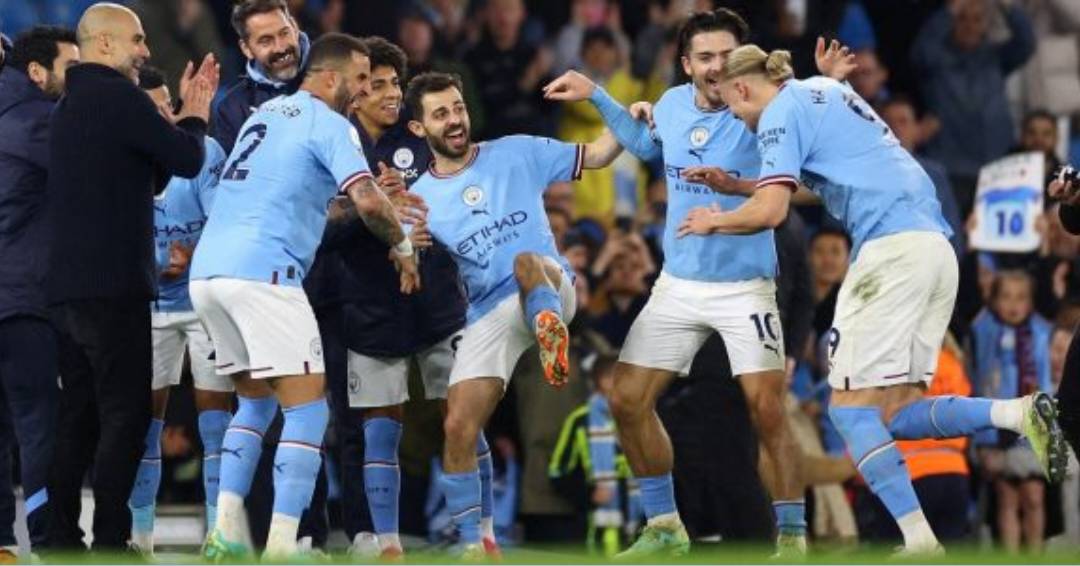 Manchester City celebrated their fifth Premier League title in six seasons on Saturday, securing the championship without even stepping onto the field. Their victory was confirmed as second-placed Arsenal's hopes were dashed in a 1-0 defeat against Nottingham Forest.
The tables had turned dramatically for Arsenal, who held an eight-point advantage over City just a couple of months ago. However, their aspirations came crashing down as they failed to secure at least a draw. City currently sit at the top with 85 points and three matches remaining, while Arsenal trail behind with 81 points and one game left.
This marks City's seventh Premier League triumph since their acquisition by Sheikh Mansour bin Zayed Al Nahyan of Abu Dhabi in 2008. Their remarkable achievements bring them within two wins of matching Manchester United's treble triumph in 1999.
City's dominance extends beyond the domestic league, as they are set to face Manchester United in the upcoming FA Cup final on June 3 and clash with Inter Milan in the highly-anticipated Champions League final a week later. They enter both contests as strong favorites.
Though Arsenal posed a threat to City's supremacy this season, it ultimately proved to be an illusion as Pep Guardiola's side showcased relentless form during the crucial run-in. Since their defeat to Tottenham Hotspur on February 5, they have accumulated an impressive 40 out of 42 possible points and emerged victorious in their last 11 matches. Notably, they also achieved convincing wins over Arsenal in both home and away fixtures.
If City can win their remaining three games, they will reach a total of 94 points, falling short of the totals they attained in their previous two title-winning campaigns under Guardiola. However, their exceptional end to the season indicates a widening gap between them and their competitors.
Meanwhile, Arsenal can take solace in securing the runner-up position and a return to the Champions League after a five-year absence. Nonetheless, manager Mikel Arteta will need to reflect on how his team succumbed to City's unyielding pressure. Arsenal's defeat against Forest adds to a lackluster record of only two wins in their last eight league matches, raising questions for the team moving forward.