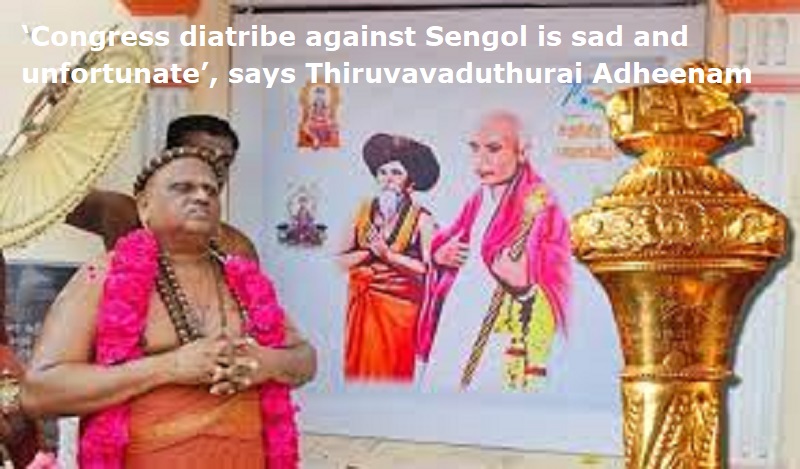 Chennai: Sri La Sri Ambalavana Desika Paramacharya Swami, the head of the Thiruvavaduthurai Adheenam has criticized Congress' stand to Sengol ( sceptre).  He in a press conference said that the Adheenam has records to show that the Sengol was presented to Jawaharlal Nehru in 1947 was indeed done to symbolise the 'transfer of power' from the British.
'It has been well documented by multiple sources, including our own records, that we were invited to conduct a ritual to symbolise transfer of power. Thiruvavaduthurai Adheenam 'honoured' the invited of C Rajagopalachari and we got a Sengol made. The Sengol was given to Lord Mountbatten and got it back from him and presented it to Pandit Jawaharlal Nehru in an elaborate ritual. The Swami who presented the Sengol to Nehru also made it clear that it is a symbol of self-rule,' said the Thiruvavaduthurai Adheenam in a statement.
'Saying that such events are bogus or false, trying to raise question marks about our credibility, and trying to reduce the importance of the use of the Sengol as a symbol of the transfer of power for the sake of politics is very sad and unfortunate,' the Thiruvavaduthurai Adheenam said in its release.
Also Read: Release date of 'Ajmer 1992' based on Ajmer rape and blackmail scandal released 
Sri La Sri Ambalavana Desika Paramacharya Swami said that he decided to hold the presser after people from a certain political party said that while it was true that the Sengol was presented to Nehru, it was merely a gift from the Adheenam and not something that was used to symbolise the transfer of power. During the press conference, he showed a book titled, 'Thurasai Sceptre In India Independence.'