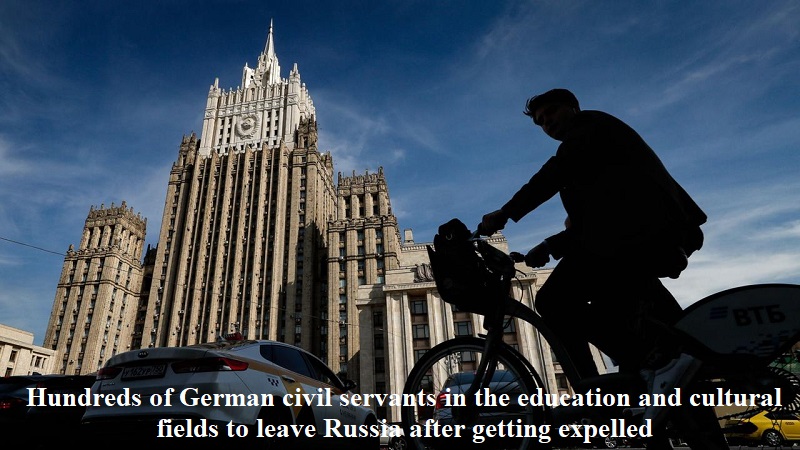 According to a government source in Berlin, hundreds of German civil servants working in the education and cultural sectors will be forced to leave Russia after being expelled due to a request from Moscow. Russia has demanded that Germany reduce its diplomatic personnel and presence in public institutions such as the Goethe Institute and the German school in Moscow by early June.
A report in the German newspaper Sueddeutsche Zeitung described this move by Moscow as a "diplomatic declaration of war," which the German foreign ministry also confirmed, calling it a unilateral, unjustified, and incomprehensible decision.
The relationship between Germany and Russia has been significantly affected by Russia's invasion of Ukraine, starting with the annexation of Crimea in 2014 and the ongoing conflict in Eastern Ukraine. Germany, once a key economic partner of Russia, has now severed ties with Moscow and is providing financial and military support to Kyiv in the crisis.
As a response to Russia's actions in Ukraine, Germany, along with the EU and other Western countries, imposed economic sanctions on Russia, targeting individuals, entities, and sectors of the Russian economy. German security agencies have reported an increase in Russian espionage within Germany since the crisis began. In April, Germany expelled a number of Russian diplomats to reduce the presence of intelligence services, and in retaliation, Moscow expelled German diplomatic staff members.
In April, the Russian foreign ministry set a limit on the number of German diplomats and representatives from public organizations allowed to remain in Russia, leading to significant cuts in Germany's presence in the country across all areas. Although the exact number of affected individuals was not provided by the German foreign ministry, a government source confirmed that the report in Sueddeutsche Zeitung stating that several hundred people were impacted was accurate. German officials have been attempting, unsuccessfully, to persuade the Russian government to reverse its decision in recent weeks.
The affected population includes German government employees in diplomatic, consular, cultural, and educational fields. This development follows Germany's previous expulsion of around 40 Russian diplomats in the spring of 2022 due to security concerns.
Germany has also contributed troops and resources to NATO's Enhanced Forward Presence initiative to strengthen deterrence and defense measures in the region. The chief of Germany's cybersecurity agency was dismissed in October due to alleged connections with a firm in contact with Russian intelligence agents. In addition, a German reserve officer was sentenced to a suspended prison term of one year and nine months for spying for Russia. The German government has strongly condemned Russia's actions and expressed support for Ukraine's territorial integrity while denouncing the violation of international law and the use of force by Russia.