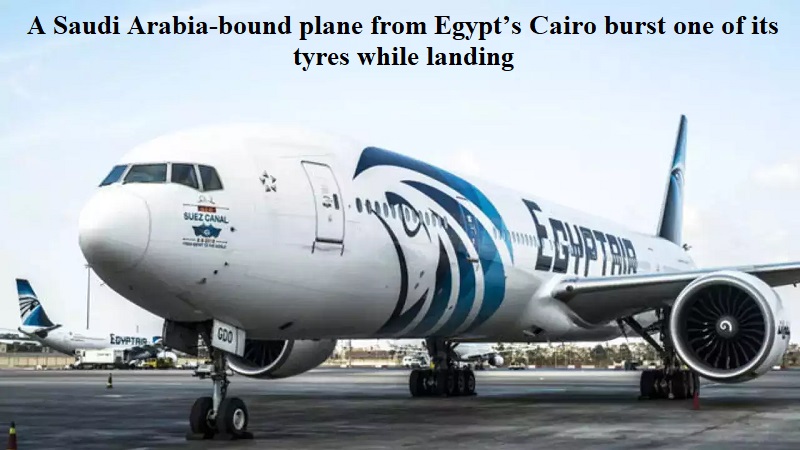 A flight from Cairo, Egypt, bound for Saudi Arabia experienced a tyre burst upon landing at King Abdulaziz International Airport in Jeddah on Sunday morning.
The EgyptAir aircraft, MS643, took off from Cairo earlier in the day and encountered the tyre issue during landing, according to a statement by the airline.
No casualties were reported, and the Boeing 738 aircraft safely landed on the runway. All passengers disembarked without any injuries, as confirmed by the statement.
The airline did not provide further details regarding the cause of the tyre burst, stating that an examination and maintenance of the plane were underway.
Based on the EgyptAir website, the flight was originally scheduled to depart Cairo at 9:25 pm on Saturday local time. However, it experienced a delay and took off at 10:05 pm, resulting in its arrival in Jeddah at 1:25 am, instead of the planned arrival time of 11:30 pm.
This is not the first time EgyptAir has faced incidents. In 2016, the airline gained international attention when flight MS804, carrying 56 passengers and 10 crew members, crashed into the Mediterranean Sea on May 19.
Initially, the Egyptian authorities claimed that the crash resulted from a terrorist attack, citing traces of explosives found on the victims' bodies. However, subsequent investigation in 2022 by France's Bureau of Enquiry and Analysis for Civil Aviation Safety (BEA) revealed that the crash was caused by a pilot who lit a cigarette in the cockpit, leading to a fire.
The BEA report disclosed that pilot Mohamed Said Shoukair's smoking in the cockpit ignited oxygen leaking from an oxygen mask, resulting in the onboard fire. The report also highlighted that smoking by Egyptian pilots in the cockpit was a regular practice at the time and was not banned by the airline.
The crash claimed the lives of 40 Egyptians, 15 French nationals, and passengers from other countries. The Airbus A320 jet had entered service in 2003, making it relatively new compared to the typical operational lifespan of 30 to 40 years for such aircraft.