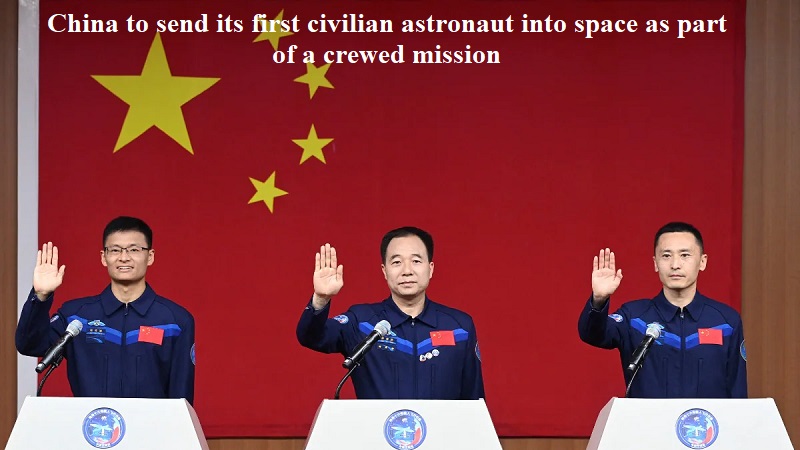 China's first civilian astronaut is set to be sent into space on Tuesday, May 30, as part of a crewed mission to the Tiangong space station, according to the China Manned Space Agency. This is a significant development as, until now, all Chinese astronauts sent into space have been from the People's Liberation Army (PLA). China's decision to send a civilian astronaut comes as the country has invested billions of dollars into its military-run space program, aiming to catch up with the United States and Russia.
The civilian astronaut, Gui Haichao, is a professor at the Beijing University of Aeronautics and Astronautics. According to the China Manned Space Agency, Professor Haichao will primarily be responsible for operating space science experimental payloads while in orbit. He comes from an ordinary family in western Yunnan province and developed an interest in aerospace after hearing about China's first astronaut, Yang Liwei, on campus radio in 2003.
The mission will be led by Major General Jing Haipeng, with engineer Zhu Yangzhu serving as the third crew member. The launch is scheduled to take place on Tuesday at 9:31 am from the Jiuquan Satellite Launch Centre in northwest China.
Under President Xi Jinping, China has intensified its pursuit of a "space dream." The country has plans to establish a base on the Moon and aims to launch a crewed lunar mission by 2029, according to the National Space Administration. The Tiangong space station, consisting of the final module successfully docking with the core structure last year, carries advanced scientific equipment, including the world's first space-based cold atomic clock system.
Once completed, the Tiangong space station is expected to remain in low Earth orbit for at least a decade, at an altitude between 400 and 450 kilometers (250 and 280 miles). It will be continuously manned by rotating teams of three astronauts, who will conduct scientific experiments and test new technologies.