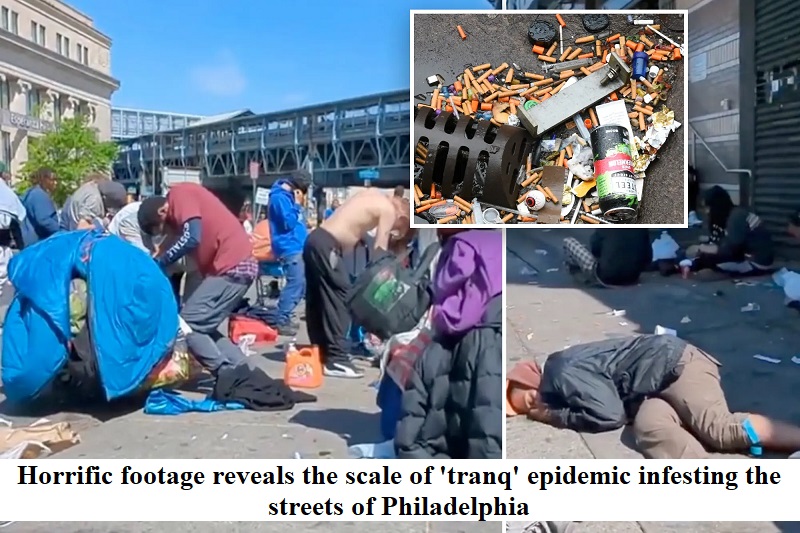 The extent of the "tranq" epidemic plaguing the streets of Philadelphia in the United States has been exposed through disturbing videos of drug addicts circulated on social media.
These videos depict the Kensington neighborhood, known as the epicenter of the city's drug crisis, showing individuals who appear to be like zombies, passed out on the streets. The footage was initially shared on TikTok and later circulated on Twitter.
The alarming drug situation in the US is highlighted by these videos, shedding light on the overuse of the drug Xylazine, also known as the "zombie drug."
Although initially approved by the Food and Drug Administration (FDA) for veterinary use, it was later discovered that Xylazine was being mixed with fentanyl, heroin, and other illicit drugs to enhance their sedative effects.
The potency of Xylazine led to the White House declaring it an "emerging threat." Philadelphia, in particular, has been severely impacted by the drug epidemic, resulting in increased overdose deaths and serious injuries that can lead to sepsis and amputation, as stated by Philadelphia health officials.
District Attorney Larry Krasner is at the center of this crisis and has faced criticism for failing to address the drug situation effectively. In 2022, he was impeached for "dereliction of duty," primarily related to his handling of crimes and the drug crisis. However, his impeachment trial was indefinitely postponed.
Xylazine, a non-opioid drug, is deemed unsuitable for human use as an overdose prevents individuals from responding to naloxone or Narcan, the most commonly used treatment for overdoses.
The drug can be consumed in various ways, often mixed with other substances to enhance its psychedelic effects. Users are observed smoking, snorting, injecting, swallowing, and inhaling the drug, with some even injecting it between their toes.
The effects of Xylazine closely resemble an overdose, with victims experiencing uncontrollable sedation, slowed breathing, and unconsciousness.