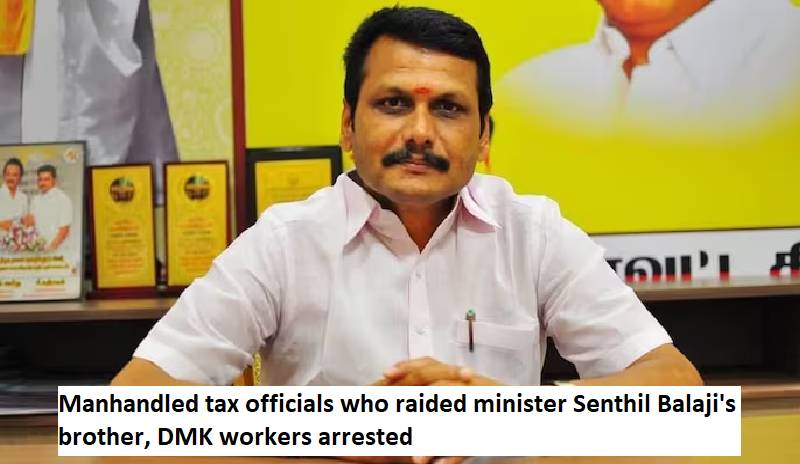 In Tamil Nadu's Karur, police detained a number of DMK officials for reportedly assaulting income tax investigators who were assigned to inspect locations connected to V Ashok, the brother of minister V Senthil Balaji.
According to news agency ANI, nine people, including a DMK councillor, were arrested on Sunday for assaulting tax officers and keeping them from doing their duties. Four I-T officials who were allegedly injured in the incident filed a complaint, which led to the action.
After the central agency conducted coordinated searches at roughly 40 sites linked to the two last Friday, DMK workers attacked the I-T team, prevented them from investigating a property belonging to electricity minister V Senthil Balaji and his brother Ashok in Karur, and destroyed their vehicle.
Those whose homes were being examined by the tax authorities included several contractors and the minister's close relatives. The homes of people connected to Balaji were searched in a number of places in Karur, Erode, and Coimbatore.
Following the raids, the state's ruling DMK charged the BJP for utilising central agencies like the I-T to 'avenge' opposition parties.
Balaji, a four-term lawmaker since 2006, also oversees the portfolios of Excise and Prohibition. He had refuted rumours that he was also being raided when speaking to media.
'There were no raids on my premises. Even if so, I am ready to face them. Such raids are not new to us as similar action was taken during the last phase of the campaigning for the (2021) Assembly polls… In most places where the searches were held, the individuals are already paying tax; they are not tax evaders,' he said.