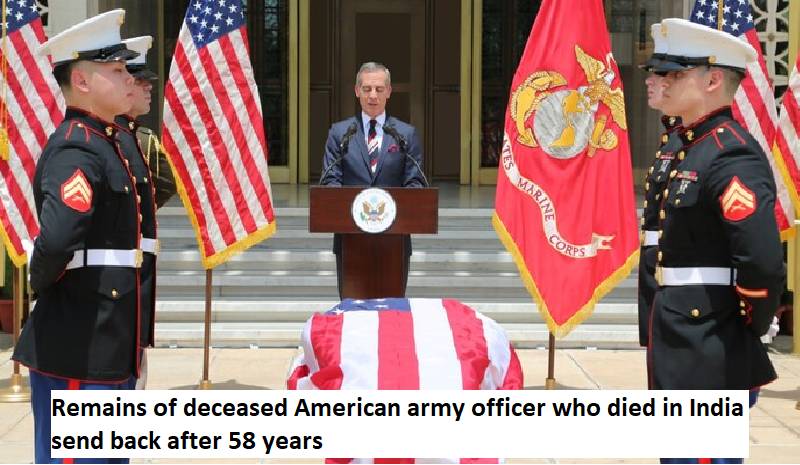 The family of Major General Harry Kleinbeck Pickett, a distinguished American army officer who died in India in 1965, finally received his mortal remains this week after a 58-year wait. At Arlington National Cemetery in the US, the remains will now be reinterred.
In 1965, Major General Pickett, who had served in both world Wars I and II, was on a world tour and stopped in India. He died from a heart arrest while he was in Darjeeling, West Bengal. At a nearby cemetery, the American officer was interred according to the correct procedure.
Following that, Pickett's family and the US government made many attempts to return his remains to their country. Despite ongoing communication between the Indian government and US officials, it took approximately 60 years for the deceased's remains to arrive in the US.
Eric Garcetti, the US ambassador to India, expressed gratitude for the administration of India's cooperation. 'This was only possible because dedicated partners in West Bengal and Darjeeling extended their care and support. Thank you for reuniting Major General Pickett with his loved ones, and for strengthening the bonds of friendship that bind Americans and Indians together,' he said.
The US Consulate General in Kolkata, Melinda Pavek, stated, 'Helping reunite Major General Pickett with his beloved family in the United States, the country he defended in both World War I and II, is a privilege and honor for us. We are grateful to the Government of India and the state of West Bengal which made his return possible.'
In 1913, Major General Pickett received his commission into the US Marine Corps. He later went on to become one of the select few Americans to serve honourably in both World Wars. He took part in the seizure of the German cruiser SMS Cormoran in Guam in April 1917, during World War I.
Twenty-four years later, on December 7, 1941, during the surprise attack, he and his fellow Marines opened fire on Japanese bombers while serving as the Commanding Officer of the Marine Barracks at Pearl Harbour.
In order to find Pickett's grave place in Darjeeling, the American Citizens Services (ACS) Unit of the US Consulate General Kolkata collaborated closely with S Ponnambalam, the District Magistrate of Darjeeling, and John Pinto International, which provides funeral services. After discovering it in the Singtom Cemetery, the Special Secretary of the West Bengal Home & Hills Department worked to secure authorization for the exhumation.