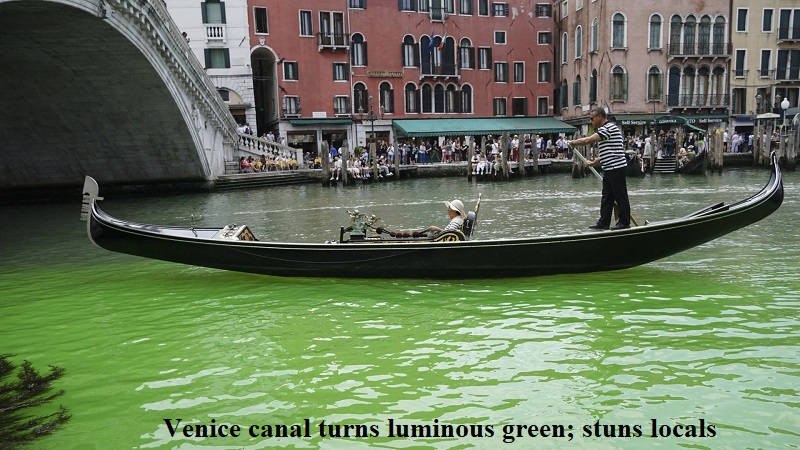 Coloring rivers green has become a visually striking tactic used by environmental activists to raise awareness about water pollution and ecological issues. However, it is unclear whether the incident on Sunday morning, when the water in the Venice canal turned luminous green, was a deliberate act of activism or something else entirely.
Authorities in Venice quickly responded to the unusual coloration by taking water samples and launching an investigation to determine the cause of the canal turning green. Various theories have emerged, ranging from a dye leak to a demonstration by environmental activists.
Local police have been reviewing CCTV footage to determine whether the incident was a publicity stunt related to the Volgalonga regatta, which was scheduled to take place over the weekend. The regatta is an annual rowing race that traverses the Venetian lagoon, including the Grand Canal, and involves participants from different rowing clubs and associations.
The striking images of the green canal in Venice prompted many social media users to draw comparisons with an eco-awareness action conducted by Argentine artist Nicolás Garca Uriburu during the 1968 Venice Biennale festival. Uriburu used environmentally safe green dye to color the waters of the Grand Canal, aiming to raise awareness about pollution and ecological issues. His action continues to inspire artists and activists, underscoring the significance of addressing environmental concerns.
In a separate event, Italian climate activists turned Rome's famous Trevi Fountain black as a strong message to highlight the devastating floods in the northeast of the country, which claimed 14 lives. The activists consider the floods, which have been described as the worst in a century, as a warning sign of the consequences of climate change.
These incidents demonstrate the use of creative tactics and visual symbolism to draw attention to environmental issues and advocate for greater awareness and action to protect our planet's ecological well-being.