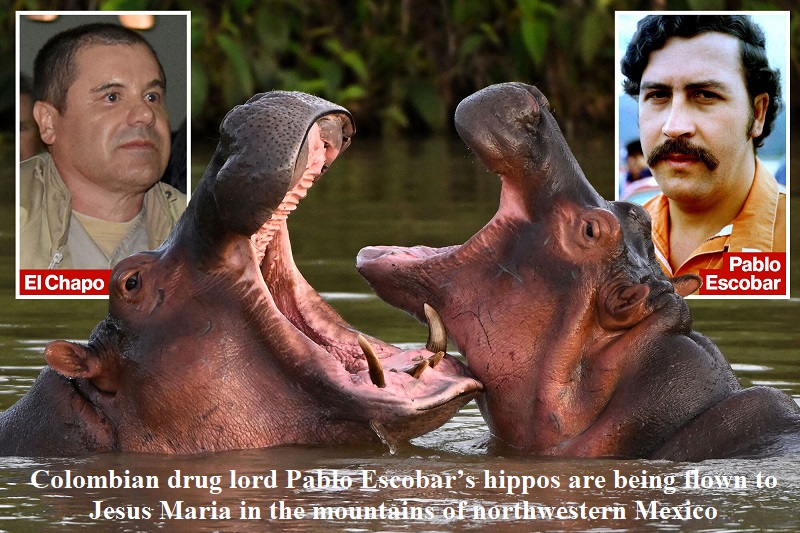 Pablo Escobar's hippos, which reside in Colombia, are being transported via air to Jesus Maria, a mountainous region in northwestern Mexico, known as the home of Mexican drug lord Joaquin "El Chapo" Guzman and his sons. The New York Post has reported that 10 hippos will be flown from Antioquia, Colombia, to Sinaloa, Mexico, and then taken to Jesús María, which is considered Guzman's stronghold.
Their new residence will be the Ostok Sanctuary, a haven for animals rescued from species trafficking. The sanctuary is situated on the outskirts of Culiacán, the capital of Sinaloa, which is known as El Chapo's stronghold. El Chapo is currently serving a life sentence for murder and drug trafficking in the federal supermax prison in Colorado after being convicted in Brooklyn.
The entire operation of relocating the hippos is being funded by Mexican conservationist Ernesto Zazueta, who is reportedly spending $500,000 for this endeavor. These 10 hippos are just a small portion of the larger population in Antioquia, where Escobar had a zoo on his Hacienda Nápoles estate during his time with the Medellin Cartel in the 1980s. Alongside elephants, giraffes, and antelopes, he brought four hippos to his private zoo.
Following Escobar's death in 1993, these animals were left to roam freely in the marshy region of Antioquia. As the hippo population grew to 150, they began to contaminate the soil and water, posing a threat to native plants. Their excrement had a detrimental effect on water oxygen levels, resulting in poor water quality and widespread fish fatalities. Consequently, they were labeled as invasive species.
Environmental authorities have struggled to control the hippo population, which, according to a study published in the Nature journal, could reach 1,500 in 20 years. Various methods, such as contraceptive darts, have been employed to manage their numbers, but with limited success. While most of the other animals were relocated, transporting the hippos proved challenging. Returning them to Africa is not a feasible option, as experts believe it could disrupt the local ecosystem there.
Furthermore, CNN has reported that 60 of these hippos will be sent to India.