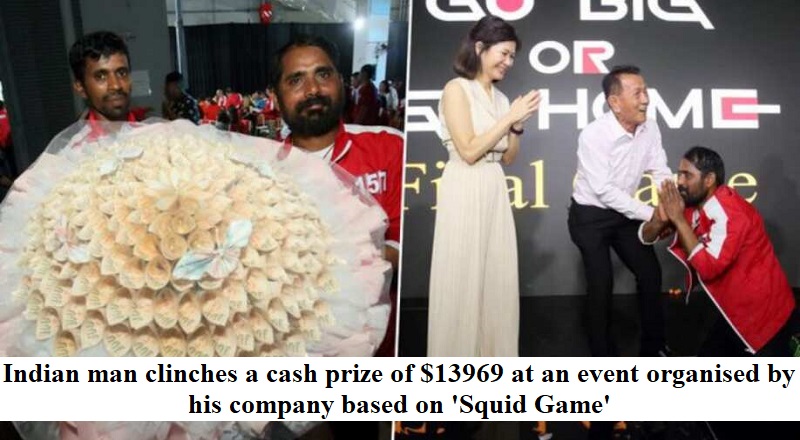 An employee of a Singapore-based company won a significant cash prize of SGD18,888 ($13,969) at a company event inspired by the popular South Korean survival drama "Squid Game." Unlike the show, the game did not involve any life-threatening challenges.
The Indian national, Selvam Arumugam, who works as a rigger and signalman at Pollisum Engineering, had not heard of "Squid Game" prior to the event. His job involves inspecting and maintaining cranes and lifting equipment at construction sites. The company, a heavy vehicle leasing firm, hosted the dinner-and-dance event, investing a total of SGD100,000 ($73,974) in prize money.
The cash prize Selvam won was equivalent to one and a half years' worth of his salary. He joined the company in 2015 to support his 15 family members in India, including his in-laws and the children of his late parents and two brothers. Selvam, who studied until Secondary 1 in India, expressed his plan to use the prize money to build a family home and support his brothers' children's education.
Upon learning about his win, Selvam initially couldn't believe it and shared the news with his entire family, who were both celebrating and emotional. The event recreated elements from the "Squid Game" series, with participants wearing red tracksuit jackets and numbered tags, and the game masters dressed in red hooded jumpsuits. An inflatable ball filled with cash hung from the ceiling. Despite not fully understanding the game's rules, Selvam did his best and managed to survive the "Red Light, Green Light" game by running effectively.
Selvam expressed his gratitude and described the win as a moment his family will cherish forever. The unexpected windfall will significantly impact his family's living conditions and educational opportunities for his extended relatives.
It's worth noting that while the event drew inspiration from the dramatic elements of "Squid Game," it did not replicate the dangerous nature of the challenges portrayed in the show.