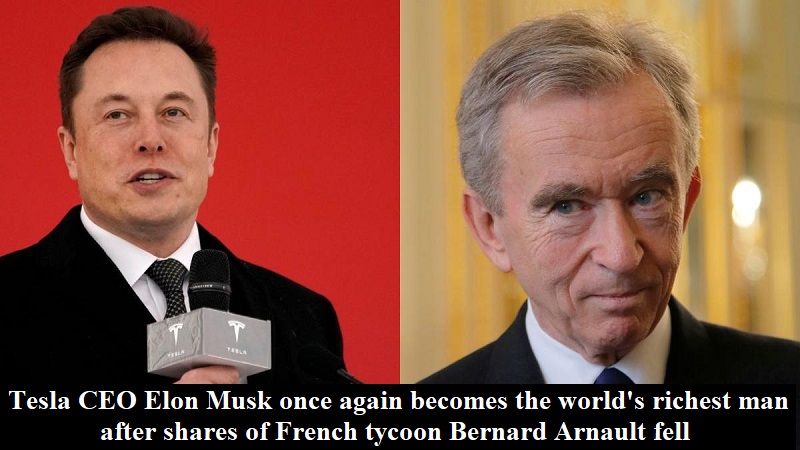 Elon Musk, the CEO of Tesla, has reclaimed the title of the world's richest person as shares of French tycoon Bernard Arnault fell 2.6% on Wednesday. Musk and Arnault have been engaged in a close competition for the top position in Bloomberg's Billionaire Index. According to Bloomberg, Musk's current net worth is estimated to be $192 billion, slightly ahead of Arnault's $187 billion.
Last December, Arnault surpassed Musk as the tech industry struggled, while luxury brands demonstrated resilience in the face of inflation. Arnault, a 74-year-old French business tycoon, is the founder of LVMH, one of the largest conglomerates in the world. His portfolio includes luxury brands such as Louis Vuitton, Dior, and Hermes.
CNN reports that LVMH's shares have declined by 19.7%, while Tesla's shares have risen by 65.6% year-to-date. Musk's wealth has increased by more than $55.3 billion this year, largely due to the success of Tesla.
Although Bloomberg ranks Musk as the richest person, Forbes' "The Richest People In The World" list still places him in the second position with a net worth of $180 billion, while Arnault retains the top spot with a staggering $211 billion.
In parallel with these developments, Musk made an unannounced visit to China to strengthen and expand his business interests in the country. He arrived in Beijing on Tuesday, marking his first visit to China in over three years. Musk had a meeting with the Chinese Foreign Minister, although the specifics of their discussion have not been disclosed. The Chinese Foreign Ministry stated that China is committed to providing a favorable business and international environment for foreign enterprises, to which Musk responded by expressing Tesla's commitment to expanding its operations in China.
During his visit, Musk was hosted for a dinner by Zeng Yuqun, the chairman of China's largest battery manufacturer, CAT. The visit has garnered significant attention in China, and Musk is not the only high-profile business figure currently visiting the country. Laxman Narasimhan, the CEO of Starbucks, and Jamie Dimon, the CEO of JP Morgan, are also in China this week. In March, Apple CEO Tim Cook paid a visit as well. Tesla has been facing challenges in China regarding the expansion of its Shanghai plant due to concerns over data security.