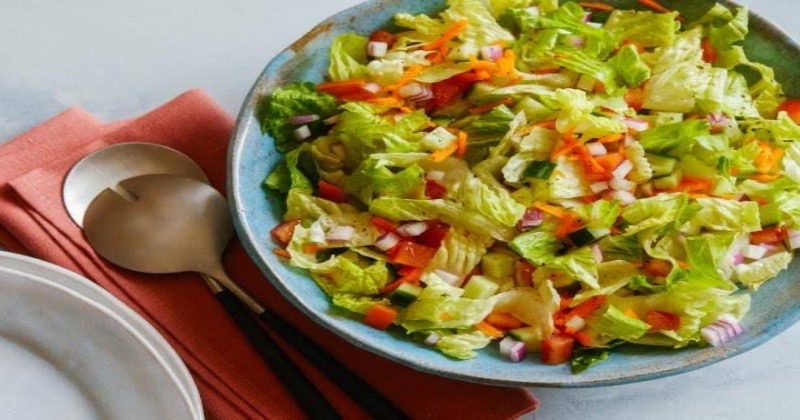 Here are the ingredients you'll need for the salad and dressing:
Salad:
– Lettuce
– Spinach
– Kale
– Arugula
– Cucumbers
– Cherry tomatoes
– Red onion
– Croutons
Dressing:
– Olive oil
– Red wine vinegar
– Dijon mustard
– Honey
– Salt
– Pepper
Here are the steps to make the tossed salad:
1. Wash and dry your greens. You can use any combination of lettuce, spinach, kale, and arugula that you like. Once the greens are dry, place them in a large mixing bowl.
2. Slice up some cucumbers and cherry tomatoes and add them to the bowl. You can also add sliced red onion for a little extra flavor.
3. Toss in some croutons for crunch.
4. For the dressing, mix together 1/4 cup olive oil, 2 tablespoons red wine vinegar, 1 tablespoon Dijon mustard, 1 tablespoon honey, 1/4 teaspoon salt, and 1/8 teaspoon pepper. Adjust the ingredients to taste, depending on how tangy or sweet you like your dressing.
5. Drizzle the dressing over the salad and toss everything together until it's evenly coated.
6. Serve immediately or refrigerate until you're ready to eat.
That's it! Enjoy your delicious tossed salad!