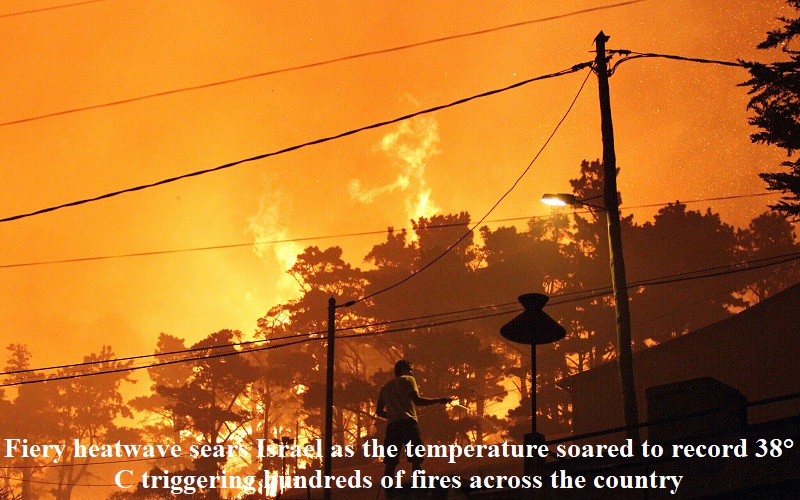 Israel experienced a scorching heatwave on Friday, with temperatures reaching a record high of 38°C (100°F). This extreme heat led to hundreds of fires across the country, causing evacuations in certain areas.
According to The Times of Israel, firefighters swiftly responded to the situation and managed to control the fires, minimizing property damage. While no major injuries were reported due to the dangerous weather, one man was hospitalized.
The temperature rose to 44°C (111.2°F) along the Gaza border, 45°C (113°F) in the Jordan Valley, 43°C (109°F) in Tel Aviv, 35°C (95°F) in Jerusalem, and 38°C (100°F) in Haifa.
The Israel Meteorological Service reported sustained wind speeds of nearly 30 mph in the southern city of Arad and the central town of Beit Dagan.
Fire officials in the country stated that there were nearly 220 brushfires throughout Israel.
As a result of the high demand for air conditioning during the extreme heat, Israel implemented rolling blackouts. The company responsible for managing Israel's electric grid attributed the blackouts to the extreme temperatures, a shortage of solar energy caused by the setting sun and dust covering solar panels, as well as technical malfunctions at a power plant.
The Israel Electric Corp. later tweeted a statement seemingly criticizing the planning by Noga, the semi-governmental firm, ahead of the heatwave.
In a similar response to soaring temperatures, Hanoi, the capital city of Vietnam, partially turned off street lights to alleviate strain on the national power system. The country's weather officials had issued a warning of an impending heatwave in June.
Several cities in Vietnam reduced public lighting in response to rising demand for air conditioning, as Vietnam Electricity (EVN), the state utility company, expressed concerns about the potential burden on the national grid.
Residents of Hanoi expressed their support for the measure, acknowledging the need to conserve electricity for essential appliances like fans and air conditioners.
In Hanoi, the Hanoi Public Lighting Company (HAPULICO) reduced the city's street lights as part of the power-saving efforts. HAPULICO's deputy director assured that there would still be sufficient lighting for traffic, security, and order while conserving energy.