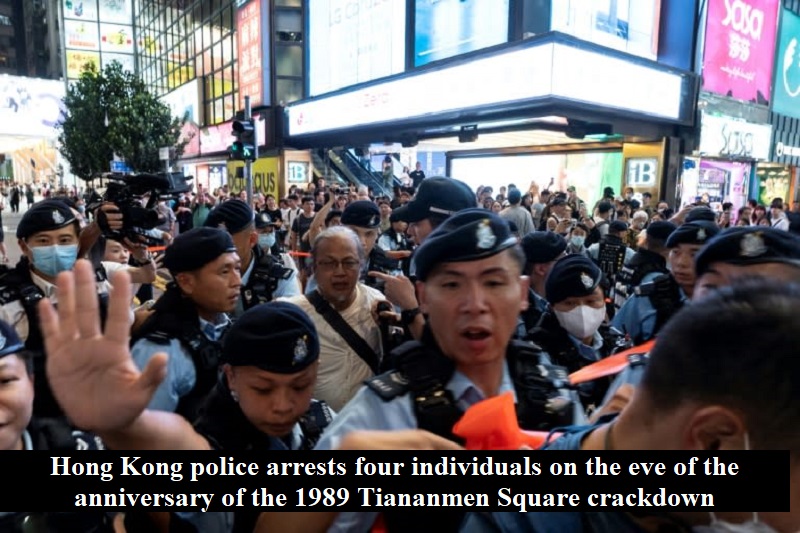 Ahead of the anniversary of the Tiananmen Square crackdown in 1989, Hong Kong police arrested four individuals on charges of disorderly conduct and seditious acts in a public place. Four others were also detained to assist with the ongoing investigation. The police expressed significant concern about unlawful activities that pose a threat to national security, according to media reports.
Among those detained were two activists and two performance artists. Lau Ka-yee, a member of the activist group Tiananmen Mothers, was seen wearing a t-shirt with a candle and the Chinese word for "truth" as she arrived at Victoria Park's fountain.
The Tiananmen Square protests in 1989 involved pro-democracy demonstrators, including students and activists, who gathered at Tiananmen Square to call for political reforms, freedom of speech, and democratic rights. Since 2020, authorities have consistently denied permission for commemorative gatherings in Victoria Park, citing concerns related to Covid-19.
Upon her arrival, Lau Ka-yee announced that she would begin a day-long hunger strike to commemorate the victims of the Tiananmen Square crackdown. She was joined by Kwan Chun-pong, a former volunteer from the disbanded alliance. Lau had red tape symbolically placed across her mouth and held six white roses and four red roses before being taken into custody.
Two artists known for their performance art during the Tiananmen anniversary were also among those detained. According to local media, Sammu Chan, one of the artists, shouted slogans such as "don't forget June 4" and "Hongkongers don't be afraid" as he was escorted to a police vehicle. The police also apprehended a couple carrying white flowers, a dentist with materials bearing slogans related to the crackdown, and a woman with paper-made white flowers, which are commonly used as funeral tributes in Chinese culture.
The Chinese government declared martial law on June 3-4, 1989, and deployed military forces to suppress the protests. The crackdown resulted in a violent confrontation between the demonstrators and the military, leading to loss of life and drawing widespread international condemnation.
The exact number of casualties remains disputed due to government censorship and limited access to information, but the event is considered a significant turning point with profound political and social implications in China.