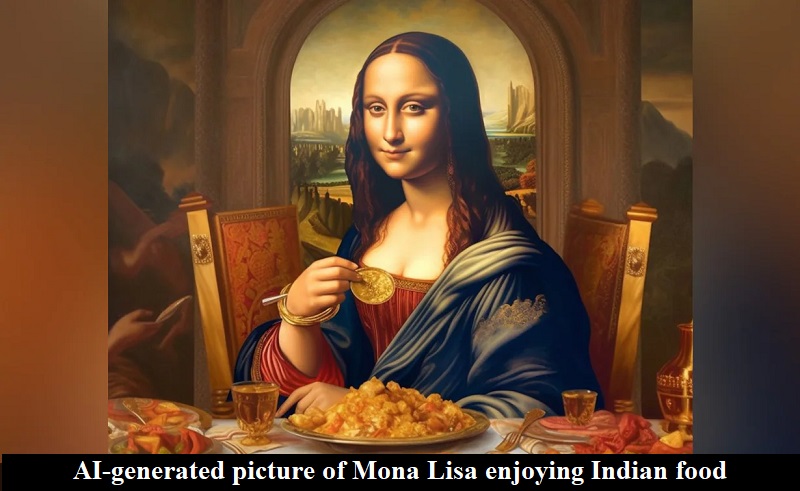 A fresh day brings a new series of pictures generated by artificial intelligence, and these AI-generated images have been capturing the attention of internet users. From portraying Hollywood actors as Indian monks to depicting the world's wealthiest individuals as poor, these AI pictures have intrigued everyone. Celebrity chef Vikas Khanna has now joined the trend by sharing an AI-generated picture with an Indian touch.
Vikas Khanna, known for introducing Indian cuisine on a global scale and showcasing it at prominent platforms and to international figures, decided to serve Indian food to none other than the centuries-old Mona Lisa, thanks to AI technology.
Demonstrating his creative side, Vikas shared the image on his social media accounts with a caption that read, "Okay, I did this with AI. Mona Lisa enjoying Indian food."
The picture depicts Mona Lisa delightfully enjoying Indian cuisine. Furthermore, the setting of the painting has been altered, featuring Mona Lisa dressed in Indian attire, sitting at a dining table where food and drinks are served.
The image quickly caught the attention of internet users. In response to Khanna's creativity, one user commented, "Wow, this is such a creative and fun use of technology! Love seeing new ways to appreciate art and culture."
Another user expressed, "Indian food is so delicious; I am sure even Mona Lisa must have liked it."
The AI-generated picture shared by Vikas Khanna showcasing Mona Lisa enjoying Indian food has sparked interest and appreciation among netizens for its innovative use of technology and the fusion of art and culture.