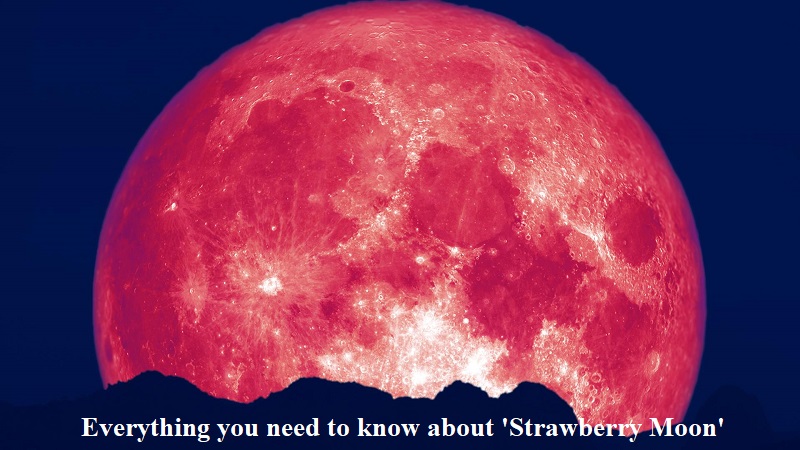 People around the world were treated to the breathtaking sight of the magnificent Strawberry Moon illuminating the night sky over the weekend.
Numerous individuals captured images of the Strawberry Moon rising above iconic landmarks such as the Empire State Building and Stonehenge, sharing their beautiful pictures of the moon's pinkish hue and radiant glow.
The moon's honey-like color is a result of pollution and dust particles in the Earth's atmosphere that distort the moonlight.
The term "Strawberry Moon" does not refer to the moon's color in June but has its roots in ancient traditions. Interestingly, this full moon is also known by other names such as Red Moon, Honey Moon, Flower Moon, Hot Moon, Hoe Moon, and Planting Moon.
According to NASA, the Maine Farmers' Almanac began publishing Native American names for full moons in the 1930s. The June full moon was associated with Native American tribes like the Algonquin.
The name "Strawberry Moon" was given because strawberry plants bloomed during this time in North America, serving as a reminder to collect and harvest ripe strawberries.
Regarding its other names like Mead Moon or Honey Moon, NASA explains that mead is a drink made by fermenting honey mixed with water, sometimes including fruits, spices, grains, or hops.
The tradition of calling the first month of marriage the "honeymoon" dates back to at least the 1500s and may be linked to this full moon, either due to the custom of marrying in June or because the "Honey Moon" is considered the sweetest moon of the year.
Some writings suggest that around the summer solstice in late June, when honey was ripe and ready to be harvested from hives or the wild, this became known as the "sweetest" moon, according to NASA.
In addition to the Strawberry Moon, stargazers had the opportunity to observe Mars and Venus in the night sky as they appeared in the western parts. Venus, located approximately 67 million miles (109 million kilometers) away from Earth, appeared as a luminous white speck about 22 degrees above the horizon.
Meanwhile, Mars, which had recently passed through the sparkling Beehive Cluster, was visible at around 28 degrees above the horizon. The next full moon, known as the Buck Moon, will grace the night sky on July 3, giving people another celestial spectacle to enjoy.