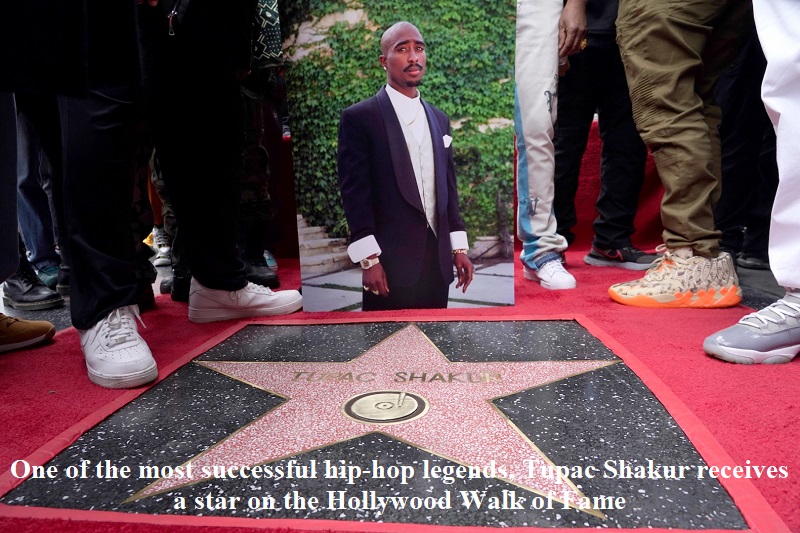 Late hip-hop legend Tupac Shakur, a self-made millionaire and one of the most successful artists in the genre, was posthumously honored with a star on the Hollywood Walk of Fame in Los Angeles on June 7, 2023. This recognition came 27 years after his untimely death.
Accepting the star on behalf of her brother, Sekyiwa 'Set' Shakur, Tupac's sister, expressed how it had always been his dream to receive this honor in Hollywood. She shared that from a young age, even before gaining recognition, Tupac had envisioned having a star on the Walk of Fame. She further emphasized that the unveiling of his star was not just a tribute to his contributions to the music industry but also a testament to the lasting impact he had on the world through his work and passion.
Tupac became the 2,758th star recipient and was initially selected to receive the award in 2013, but the Walk of Fame waited for his family to choose a date for the ceremony. Additionally, there are reports that a stretch of an Oakland street will be renamed after him in the near future.
Tupac, often regarded as a symbol of rebellion, passed away in 1996 at the young age of 25, leaving behind a five-year artistic legacy. Although his music career was cut short due to gang-related gun violence, he continued to make an impact, selling over 75 million records worldwide. Notable among his releases is the diamond-certified album "All Eyez on Me," which has resurfaced on social media, along with other popular hits such as "California Love (Remix)," "I Ain't Mad at Cha," and "How Do U Want It." In 2017, Tupac was also inducted into the Rock & Roll Hall of Fame.
Born as Lesane Parish Crooks in East Harlem, New York, Tupac was later renamed Tupac Shakur Amaru by his mother, Afeni Shakur, in honor of an Inca warrior and Peruvian rebel who led a revolution against colonial rule. His influence as an artist is far-reaching, and he is considered a global symbol of rebellion, comparable to figures like Malcolm X and Che Guevara. The FX documentary "Dear Mama: The Saga of Afeni and Tupac Shakur," directed by Allen Hughes, highlights the story of Tupac's mother as a female leader in the Black Panther Party.
Tupac's legacy remains strong, with over 24 million monthly listeners on Spotify and significant earnings from licenses in films, TV shows, and video games. His impact is also evident in his large following on social media platforms like Facebook, where he has over 20 million likes, and Twitter, where his name has garnered over 220,000 mentions in the past 24 hours alone. Before his rise as a singer-rapper, Tupac started as a backup dancer in the hip-hop group Digital Underground. He later ventured into acting, starring in films such as "Juice" (1992) and "Poetic Justice" (1993), which achieved commercial success at the box office.