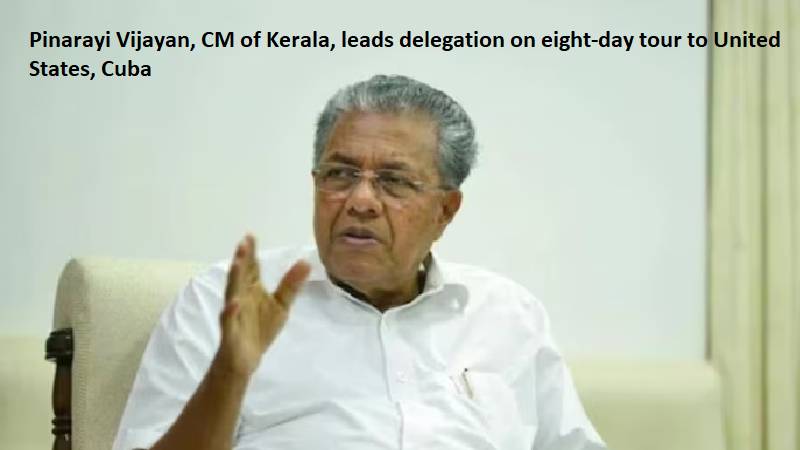 On Thursday morning, a delegation from the Kerala government headed by the chief minister Pinarayi Vijayan departed for an eight-day trip to Cuba and the United States.
The delegation, which also includes the Speaker of the Loka Kerala Sabha AN Shamseer and the State Finance Minister KN Balagopal, will attend a number of events, including the American Regional Conference of the Loka Kerala Sabha, which was marred by controversy when claims that foreigners were being charged money to stand or sit close to Vijayan during the three-day event surfaced.
The Loka Kerala Sabha, a gathering of non-resident Keralites, will take place in New York City on June 9, 10, and 11. The opposition Congress had claimed that it was 'embarrassing' for the state that sums ranging from USD 25,000 to USD 100,000 were being charged as part of the 'offer' to sit or stand close to the Kerala Chief Minister.
The claims of fundraising have been denied by the state's ruling Left and the Department of Non-Resident Keralites Affairs (NORKA). The state's ruling CPI(M) had argued that the government had no role in the event and that money was only being collected as 'sponsorship' by the promoters.
Vijayan will remain in the US until June 14, at which point he will fly from New York to Havana, the capital of Cuba, the Chief Minister's Office (CMO) announced in a news release. The Loka Kerala Sabha's American Regional Conference will be opened by the Kerala Chief Minister on June 10 at the Marriott Marquis in the Times Square area of New York, according to a CMO release.
Vijayan will first visit the 9/11 Memorial in New York on June 9 before continuing to the UN headquarters, according to the statement. According to his schedule listed in the release, the chief minister will also open a Business Investment Meet on June 11 at the Marriot Marquis.
According to the press release, Vijayan will also meet with renowned Malay expatriates, students, women business owners, and investors during his tour to the US. At a public event in New York's famous Times Square, Vijayan will also speak to the international audience, the statement stated.
He will meet Martin Reiser, the South Asia Regional Vice-President of the World Bank, on June 12 in Washington, DC, it was noted.
According to the announcement, the chief minister will personally examine and have an understanding of the waste management systems in Maryland on June 13 before departing for Havana on June 14. On June 15 and 16, Vijayan will take part in a number of events in Havana, as well as meet with dignitaries and see significant historical sites like the Jose Marti Memorial.